World news story
British High Commission holds Chevening debate at the Lahore press club
Chevening scholarships offer the potential future leaders of Pakistan, the opportunity to study for a post-graduate qualification in the UK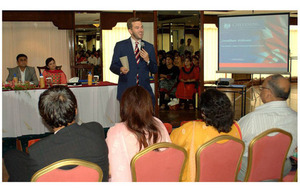 The British Government's Chevening scholarship Programme is a dynamic, professional development opportunity, designed to identify and support the next generation of leaders from across the globe. To raise awareness of the Programme amongst future leaders in Pakistan, including the Pakistani journalist community, the British High Commission today partnered with Lahore Press Club (LPC) to host the presentation on the scholarship.
As part of the event, the British High Commission team, including Mr. Jonathan Williams, Press Attaché and Head of the Chevening Programme in Pakistan and Mrs. Shahla Qayyum, Deputy Head of Chevening Pakistan, highlighted the history, objectives and benefits of the programme and encouraged prospective applicants to apply. The window of applications for the 2014/15 academic year opened on 01 September 2013. Applications can be made online at www.chevening.org/Pakistan. The closing date is 15 November 2013.
Mr. Muhammad Ayub and Ms. Sumera Latif, two former Chevening Scholars, shared their respective experience of studying in the UK with potential Chevening applicants. In his note of thanks to the British High Commission, Lahore Press Club President Mr. Arshad Insari also encouraged their members to apply for the scholarship programme as part of their personal and professional development.
The Head of the Chevening Programme, Pakistan, Jonathan Williams said:
Chevening scholarships offer the potential future leaders of Pakistan, the opportunity to study for a post-graduate qualification in the UK. Students in the UK benefit not only from our world class universities but also from our dynamic, vibrant and multicultural society. Our universities benefit from having top professionals study with them.
As we celebrate 30th Anniversary of the Chevening Scholarships this year; the programme has produced over 42,000 scholars to date globally which also includes 1,200 Pakistani nationals from various disciplines, including the journalism and mass media industry. We are proud of the Chevening alumni and the important contribution they are making towards Pakistan's development. This demonstrates that Chevening not only brings immediate benefits for individual scholars but also long-term benefits for both Pakistan and the UK. This is a sign of the strong bilateral relationship between our two countries. The 2014/15 application window for scholarships is now open and we are pleased to join the management and the members of Lahore Press Club here today to discuss the objectives and benefits of these Scholarships. We look forward to receiving your applications on our website, www.chevening.org/pakistan
Published 18 September 2013