World news story
British High Commission celebrates the 87th birthday of Her Majesty Queen Elizabeth II
Tonight, guests from all over Pakistan gathered at the British High Commission in Islamabad, to mark Her Majesty Queen Elizabeth II's 87th birthday.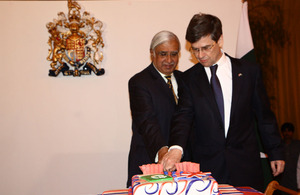 Around 1,000 people attended the red carpet celebrations, including representatives from the Caretaker Government of Pakistan, political parties, the military, members of the diplomatic corps, civil society, the media and business.
2013 marks the 61th anniversary of when Her Majesty Queen Elizabeth II became both the British Sovereign and the Head of the Commonwealth. The British High Commissioner, His Excellency Adam Thomson, and the Chief Guest Caretaker Federal Minister for Housing and Works, Dr. Younis Soomro, cut a cake to mark this important occasion for the UK, Pakistan and the other Commonwealth countries. The British High Commissioner and the Chief Guest also toasted their Heads of State whilst the national anthems of both countries played. This year on Commonwealth Day, Her Majesty the Queen also signed a formal 'Commonwealth Charter" setting out core values of democracy, rule of law, good governance and similar legal systems. This was agreed by all the Commonwealth countries.
Speaking on the occasion of Her Majesty the Queen's birthday the British High Commissioner to Pakistan, His Excellency Adam Thomson, said:
The Queen"s Birthday is an occasion to reflect on the close ties between the UK and Pakistan. Pakistan only came into being shortly before Her Majesty became Queen and the enduring partnership between Pakistan and the UK has taken shape during her reign. It is a partnership that is set to become even more important as we continue to work together for the mutual prosperity and security of both our countries.
The theme of today"s Queen"s Birthday Party is the "GREAT" Britain campaign which showcases the very best of what Britain has to offer. Britain is a great place to visit, study, work and do business. Our culture is diverse and we have always thrived on our multiculturalism, a significant part of which comes from a tremendous latticework of historical connections between the UK and Pakistan. These connections are embodied in one million people with close ties to Pakistan living in Britain today and the hundreds of thousands of our citizens who travel back and forth each year to work, study or for simple enjoyment. Tonight, I particularly pay tribute to the Great British Pakistanis who help to nurture the links between our two countries and to deepen our mutual understanding.
This year is particularly important as the upcoming elections are a crucial milestone in Pakistan"s democratic history - the first time in decades that there will have been a democratic transfer of power between one civilian government and another. As a fellow Commonwealth country and friend of Pakistan, we look forward to witnessing elections this year that are credible and acceptable to the Pakistani people and that will bring democratic continuity to this wonderful country.
Further Information
Photos of the event will be made available on the British High Commission Flickr site Contact: Press Attaché, British High Commission, Islamabad; tel. 051-201-2000
Published 19 April 2013