World news story
British High Commission Abuja hosts Chevening Scholars Class 2012/13
British High Commission Abuja recently hosted a welcome back reception in honour of the returning Chevening Scholars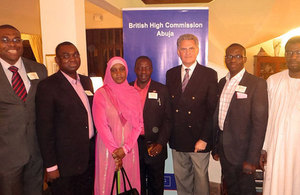 British High Commission Abuja on Thursday 30 January 2014, hosted a Welcome Back Reception in honour of the returning Chevening Scholars for the Class of 2012/13, who have returned to Nigeria following the completion of their studies.
The High Commissioner, Dr Andrew Pocock in his address said that
UK and Nigeria educational ties, of which the Chevening scheme is an important element, are a firm foundation for a mutually beneficial future. Chevening Programme is about brain gain and not brain drain
Adding that many Nigerians have benefited from the Chevening Scholarships, including the Ministers of Petroleum, Diezani Alison Madueke, the Sports Minister Mallam Bolaji Abdullahi, and the CBN Governor, Mallam Lamido Sanusi.
The High Commissioner congratulated Mr Idongesit Udoessien for winning the Redwood Prize for the Best overall Performance in MSc Telecommunications and Internet Technology at King's College London School of Natural and Mathematical Science.
In response, Mr Udoessien thanked the British Government Chevening Scholarships scheme for giving him the opportunity to develop academically and professionally. Adding that
I can assure you that the knowledge I have gained during the period of my study will be most beneficial to my service in the Nigerian Navy and the nation as a whole. I am proud to be a Chevening scholar and a member of this prestigious Alumnus
Joseph Maren Sampson.
The Chevening Scholarship has provided me an opportunity to be prepared to serve as a transformation agent by initiating credible Peace Initiatives for sustainable development in Nigeria. It has thus provided me with an opportunity to live my dream
Abdulhakeem Ojebode
Chevening afforded me the chance to broaden my horizon in an ivory tower with world class facilities, and offering quality education feeding from cutting edge research. The skill sets I have acquired are now being severally replicated as many people are being trained by me. So, I'm glad that I'm able to pass on my experience and expertise and by so doing ensuring the realisation of one of the objectives of Chevening
Dr Nafida Sani Nass
It was definitely a life-changing experience. I achieved a Masters' Degree and much more in a prestigious UK university through a generous funding. Life in the UK was an eye opener towards different cultural perspectives, values, and tutorship. During my one year in school and at Chevening events, I have come to particularly appreciate more the importance of networking and teamwork in making a difference. Environmental Health is a prevailing global issue, I have always dreamed of making an impact and the scholarship has now provided me with greater opportunities
Published 18 February 2014