British heroes honoured for their part in Malta convoy
Sailors whose courage kept supply routes open to the strategically vital island of Malta during the Second World War have been honoured with a lasting tribute.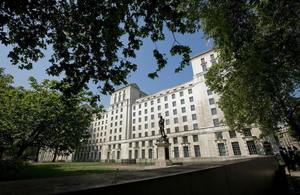 Emotional British veterans have spoken of their pride at seeing the memorial to their bravery unveiled on Malta 70 years after their actions helped defeat fascism in Europe.
Sailors who faced savage air attacks en route to the Mediterranean island were honoured at a ceremony in the island's capital, Valletta, yesterday, Monday 13 August.
Malta's Prime Minister, Lawrence Gonzi, unveiled a large black anchor as a symbol of the courage shown by the islanders and the convoy, known to the Maltese as the 'Santa Marija Convoy', that delivered vital supplies. He said:
On my behalf and on behalf of the Maltese people, I would like to thank the veterans here for their bravery which protected our island fortress in its darkest hours during the war.
The veterans - eight of the 100 still alive - were key players in Operation PEDESTAL, a dangerous wartime mission to relieve the starving people on the besieged island that were undergoing enemy bombardment.
More than 23,000 Royal Navy and merchant sailors sailed from Gibraltar during 11-15 August 1942 against an onslaught of 21 enemy submarines, 23 E-boats and 540 aircraft. More than 350 Service and merchantmen lost their lives.
In the operation, 14 merchant ships carrying supplies of aviation fuel and food were escorted by a Royal Navy fleet of four aircraft carriers, two battleships, 12 cruisers, 34 destroyers, submarines and Royal Fleet Auxiliary ships.
Only five of the original flotilla of merchant ships made it to Valletta - the most famous of which was the SS Ohio.
She had been bombed so heavily by enemy fighters that her back was broken and she was in danger of sinking. But she was supported into port by HMS Ledbury and HMS Penn on either side, with HMS Rye acting as a stabilser at the stern.
Despite the best efforts of the Italian and German attacks 30,000 tonnes of cargo reached the islanders, including aviation fuel for Spitfire aircraft based on the island. It sustained Malta for ten weeks and showed that the tide of the war in North Africa and the Mediterranean was not moving away from the Allies.
In 1942 John Suddaby from Warrington was a 19-year-old Petty Officer on the cruiser HMS Kenya, which was damaged when the engine room was bombed and caught fire.
Now 89, Mr Suddaby said:
Seeing the memorial means a lot in terms of what we went through, although it is very little in comparison to what the Maltese people here had to endure.

At the time it was just something I was told to do - I didn't really realise the significance of it until afterwards but it was a tough couple of days.

I am extremely proud of what we did and it is important that it is remembered in this way.
Speaking at the ceremony in Valletta, the current First Sea Lord, Admiral Sir Mark Stanhope, said:
We lost four warships, damaged five more, and out of 14 merchant ships only five got through - but they were a critical five and key to the survival of Malta.
The Navy was at sea, in the air and under the sea, because it was vital we got these supplies through.
Admiral Stanhope also praised Malta for supporting Libyan-bound forces last year and thanked the island for providing use of its Grand Harbour, where the memorial anchor now sits. The location meant that NATO ships, including HMS Cumberland and York, could enforce the United Nations resolutions which were important to the outcome of the conflict.
He added:
This visit was about making sure Malta feels valued for what it provided last year in support of operations off Libya. Their support was completely invaluable in that they provided berthing facilities and access to stores.
Published 14 August 2012