British Gunners work with Aussie colleagues in Helmand
Lance Bombardier Mark Hope, aged 25, and Gunner Michael Morritt, aged 21, are both currently deployed to Forward Operating Base Budwan in the…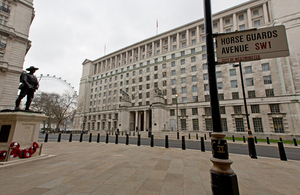 Lance Bombardier Mark Hope, aged 25, and Gunner Michael Morritt, aged 21, are both currently deployed to Forward Operating Base Budwan in the Nahr-e Saraj district of Helmand province.
Lance Bombardier Hope is part of 'Cutler Troop', composed of a mix of Australian and British artillery soldiers and named after an Australian artilleryman - the only one to have won the Victoria Cross.
His job at the moment is as coverer of a gun detachment, responsible for ammunition for the guns:
I am the coverer so I deal with all ammunition issues and I count how many rounds are fired," he explained. "This can get quite tricky, especially if you're doing it at night or there are complicated fuse settings to deal with.

I also help the detachment commander with looking after the soldiers within the detachment.
Working in Afghanistan with the L118 Light Gun, Lance Bombardier Hope is part of a team that are there to provide crucial fire support for troops on the ground whenever they may call for it.
He is on his second tour of Afghanistan, having already deployed before with his regiment, and he says this time they have fired only a small percentage of the munitions they fired a couple of years ago:
It's a bit easier for the guns than the last time I was out here," he said. "There is more emphasis on reducing collateral damage and avoiding civilian casualties.
His day-to-day tasks include crucial sangar duties, which involve providing protection for all those in the camp from insurgents, and gun maintenance, so the battery is ready to answer a call for fire from guys on the ground in a timely and accurate manner.
He also takes his turn as the duty non-commissioned officer and ensures all tasks are completed correctly in camp:
I'm enjoying working with the Australians, they are good guys," he added. "It's valuable experience and it's good for us Brits to see a different way of soldiering.

We also share our camp with the Danes and also the Afghan National Army. The Danes are very good to work with, professional yet quite relaxed in camp.
Gunner Michael Morritt meanwhile is serving with 97 (Lawson's Company) Battery. He said:
My job is the loader and sometimes the layer on the gun, which means during a fire mission I get the ammunition into the gun as quickly as possible. I can also aim the gun based on data provided by the command post.
Gunner Morritt's day-to-day routine usually consists of doing maintenance work on the artillery guns, followed by any jobs that have fallen out of the orders that are given daily. As well as this he also undertakes sangar duties to protect the camp. He said:
It's been all right, definitely good to be away with the lads. It's also been spot on working with the Aussies. My No 1 [the detachment commander] is an Aussie, he's a really good bloke.
This is Gunner Morritt's first tour of Afghanistan and he is in a fairly unique position to be serving alongside soldiers from the Royal Australian Artillery.
The Australian soldiers have been with 4th Regiment Royal Artillery since their six months of pre-deployment training and will not leave until after the regiment have been awarded their Operational Service Medals in October 2010.
Published 20 August 2010