British Gunners train with US Marines in Arizona desert
Gunners from 148 Battery, 29 Commando Regiment Royal Artillery, have been training with US Marines in the dusty heat of the Arizona desert.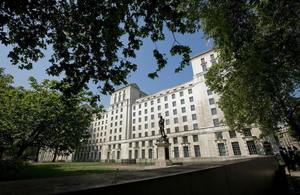 As the sun rises over the desert hills of southern Arizona, the US Marines and commandos of the British Fire Support Team can clearly see the similarities between Afghanistan and Yuma. From the unbearable heat to the uninhabitable terrain, Marine Corps Air Station (MCAS) Yuma's ranges set the stage for the finale of this year's Exercise Burmese Chase.
Burmese Chase, a bilateral training exercise between US and UK armed forces, is conducted every year to hone the skills of forward observers, and culminated on 20 to 22 June in three days of live-fire close air support on simulated hostile forces.
Marines from the 1st Air Naval Gunfire Liaison Company (ANGLICO), Supporting Arms Liaison Team Charlie, based at Camp Pendleton in California, trained together with the British Gunners on the ranges of MCAS Yuma.
The training focused on the improvement of both nations' capabilities to call for fire from supporting arms, especially air assets. During their stint in Yuma, both 1st ANGLICO and 148 Battery called in dozens of air strikes and casualty evacuations to Marine Aircraft Group 39 assets, while Marine Wing Support Squadron 371 provided expeditionary refuelling support to keep the helicopters close to operations on the ground:
This is exactly what we will be doing in Afghanistan," said US Marine Captain Jesse Rangel of 1st ANGLICO.

This encompasses the whole Operation ENDURING FREEDOM scheme of manoeuvre for ANGLICO teams.
ANGLICO exists as a go-between for joint and international forces to co-ordinate supporting fires, be it ground artillery, naval artillery or air support. The forward observers of 148 Battery also co-ordinate supporting fires for ground forces, and often work with international assets. Both units strive to assure forces which haven't trained together can operate efficiently with each other:
We'll be establishing observation posts near villages," added Captain Rangel.

We'll be watching [US Marine] infantry, Jordan infantry and British infantry head in, and we need to be able to communicate with supporting aircraft with the equipment we have out here. We might have to communicate through a young [US Marine], British soldier or Afghan National Army soldier out front to provide support.
This is an amazing opportunity for us," said Captain Doug Webster, Commanding Officer of the 148 Battery, 29 Commando Regiment Royal Artillery, Fire Support Team.

It's important because we worked a lot with the Marine Corps in our last deployment in Helmand province, Afghanistan. All of our boundaries were shared with Marine units. This is a good opportunity to share tactics, techniques and procedures.
Exercise Burmese Chase started with infantry immersion training, which also incorporated fire support and air asset co-ordination, then continued with live-fire artillery training and counter-IED (improvised explosive device) training:
Both units duly benefited," stated Captain Rangel. "We shaped the exercise so it could encompass the needs of everyone.
While the training took place in Arizona, another contingent of Marines from 1st ANGLICO travelled to the UK to engage in similar training.
This article is based on a story by Lance Corporal William Overstreet of the United States Marine Corps.
Please tell us what you think about government news on the web by filling in the short survey at Related Links.
Published 4 July 2012