News story
British Government's Special Representative for Climate Change visits Peru
John Ashton, British Government's Special Representative for Climate Change, is in Peru this week to speak with Peruvian government officials and climate change experts.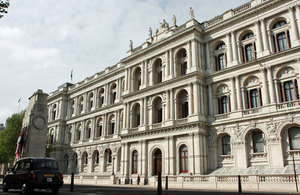 The meetings will focus on how Peru and the UK can develop an agreement to tackle global warming towards the next summit in Cancun in December.
John Ashton will meet with senior officials from the Ministries of Environment, Economy, Energy and Mines and Foreign Affairs. He is also meeting with leading businessmen to discuss business low carbon opportunities in the world economy.
He will also visit SENAMHI, Peru's Meteorological Institute, where he will talk with Peruvian scientists and experts about the impact of global warming in Peru.
Images during meeting with Minister Antonio Brack and senior officials from the Ministry of Environment:
Search the news archive
Published 29 September 2010