World news story
British government launches a new programme to attract global start-up entrepreneurs
A pioneering scheme to bring the world's best entrepreneurial talent to the UK has been announced by the British Government.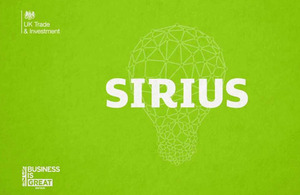 The Sirius Programme will enable talented graduates with innovative start-up ideas to relocate to the UK and receive support to fast track their business from idea to reality.
The Sirius Programme is a 12-month start-up support and acceleration package open to final year students and recent graduates with an early-stage business idea or business plan. Successful applicants will receive a full range of support including £12,000 investment, a place in one of the world's best business accelerator programmes, mentoring and logistical help with relocating to the UK.
The programme aims to attract hundreds of entrepreneurs into the UK in its first two years, with each of the resulting businesses creating new jobs, bringing in foreign investment and making a significant cumulative impact on the UK economy. The UK offers massive potential with a great environment for start ups and the support to help businesses grow and flourish.
Trade and Investment Minister Lord Green said:
"The UK is one of the top places in the world to become an entrepreneur and we want to attract talented graduates to set up and build their business here. UKTI's Sirius Programme will be one of the most comprehensive start-up support packages offered globally, and the best in Europe."
UKTI Director in Israel Mr. Barry Grossman, said:
"Ensuring that the UK becomes the place of choice for talented graduates to start and grow their businesses will help our economy to grow, boost productivity and create jobs."
For more information and to apply visit: www.siriusprogramme.com. Places will be allocated each month between October 2013 and January 2014.
The Sirius Programme is part of UK Trade & Investment's commitment to supporting global graduate talent by helping young people from around the world develop and make their business ideas a reality in the UK.
Published 13 November 2013