World news story
British Government expresses condolences at loss of life
The British Chargé d'Affaires, Andrew Key, today commented on the typhoon and floods that have destroyed homes and lives around China.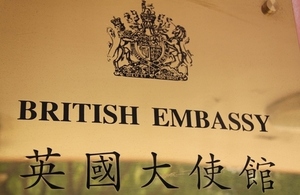 He said:
I would like to express my deepest condolences to all those who have lost their lives in the areas affected by Typhoon Utor in Guangdong Province and the floods across North-Eastern China.
The British Government stands ready to help in any way we can.
I hope that those still missing will soon be reunited with their loved ones.
Published 20 August 2013