British, German and American soldiers take to the skies together
The training was the third in a series of similar multinational exercises, with Luftlandepionerkompanie 270 (Lpk 270) hosting the previous two…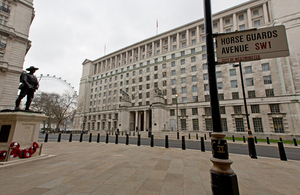 The training was the third in a series of similar multinational exercises, with Luftlandepionerkompanie 270 (Lpk 270) hosting the previous two at their base in Seedorf, northern Germany. American soldiers from 321 Special Tactics Squadron (321 STS), based at RAF Mildenhall in Suffolk, also took part.
The troops dropped onto the STANTA training area in Norfolk, with soldiers jumping from a British C-130J Hercules aircraft using British parachutes on Wednesday of last week and from an American MC-130H Combat Talon II using American parachutes on Thursday.
By doing the jumps, 9 Parachute Squadron and Lpk 270 soldiers earned their American parachute wings, and the German and American soldiers earned their British parachute wings.
German and American troops were also given familiarisation training on British Army weaponry and engineering equipment, and briefings on 23 Engineer Regiment (Air Assault)'s diving team and counter-IED practices, and visited the Imperial War Museum Duxford.
Major John Clark, Officer Commanding 9 Parachute Squadron Royal Engineers, said:
The multinational aspect is very important to military operations nowadays and we have strong links to our US, German and French counterparts. We have done a number of similar exercises, which are designed to develop co-operation, share our skills and experiences and build the bonds of friendship.
For my squadron, which is just back from six months in Afghanistan, this is about refreshing our parachute skills as 16 Air Assault Brigade moves back to the contingency role. Our junior sappers will go away with a renewed sense of confidence and will feel better trained and prepared, as well as having experience of how different countries' armies operate and some fun.
Oberleutnant Jan Gulden, from Lpk 270, said:
We are here to strengthen the partnership that has grown between our units. This exercise is a great chance to share information and a great experience to earn each other's parachute wings.

My company's role is exactly the same as 9 Parachute Squadron, but we all have different ways of doing the same job and it is worthwhile to learn each other's methods.
Lieutenant Colonel Rex Saukkonen, from 321 STS, said:
This is a fantastic opportunity to bring forces together in training, in the way that we are working together on operations in Afghanistan. It's about sharing and building on the airborne spirit we all have - we're all ready to go anywhere, anytime and by any means.