British Foreign Secretary William Hague visits Cairo
Ahead of his arrival in Egypt, Mr Hague said: "This will be my first visit to Cairo as Foreign Secretary. Egypt is a key regional and international partner".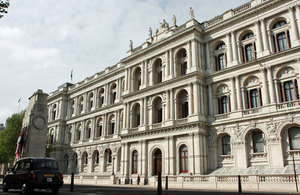 The Foreign Secretary, William Hague, will visit Egypt this week. He will hold meetings with Minister for Foreign Affairs HE Aboul Gheit, Arab League General Secretary HE Amr Moussa and with high-level Egyptian officials to discuss a wide range of issues of mutual interest including peace in the Middle East, and Sudan.
Ahead of his arrival in Egypt, Mr Hague said:
"This will be my first visit to Cairo as Foreign Secretary. Egypt is a key regional and international partner. I look forward greatly to continuing discussions on a range of issues including the Middle East Peace Process and how to ensure that direct talks resume as soon as possible. Egypt and the Arab League both have a crucial role to play in this and securing a two state solution within the year."
Search the news archive
Published 3 November 2010