World news story
British Foreign Secretary in Slovenia
The British Foreign Secretary discussed EU reform, the Western Balkans and Ukraine on a visit to Ljubjana.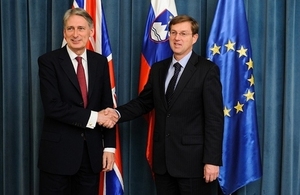 The British Foreign Secretary, the Rt Hon Philip Hammond MP, visited Slovenia on Thursday 26 February. He spoke with President Borut Pahor, Prime Minister Miro Cerar, and State Secretary of Foreign Affairs Dragoljuba Benčina. The British Minister's visit underlined the close relationship between the UK and Slovenia.
The Foreign Secretary's visit came at a timely point for Europe, with the new European Commission and European Parliament in place. The UK is urging reform of the EU to make it fit for the 21st century and to ensure that it delivers more job opportunities and greater prosperity for all 28 member states and for all the people of Europe. The UK and Slovenia found common ground on many reform areas issues, including enhanced EU global competitiveness through completing the single market in services, digital and energy, and through the TTIP trade agreement between the EU and US which would protect high standards.
The Foreign Secretary also discussed the future of the Western Balkans and appreciated Slovenia's role in this regard. The Minister and President Pahor shared views on their hopes for Bosnia. They pledged to give every support possible to the EU's initiative and to encourage implementation of the commitment made freely by the Bosnian leaders.
On Ukraine, there was a shared view that the obligations entered into at Minsk must be delivered in full and common concern that Russia's behaviour must be addressed through EU unity.
Published 27 February 2015