British Foreign Office Minister Alistair Burt's visit to Basra
During a visit to Basra Province yesterday, British Foreign Office Minister Alistair Burt met a range of politicians, religious and civil society leaders and businessmen.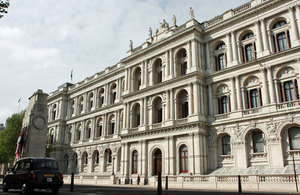 Mr Burt paid a call on the Provincial Governor, Dr Shiltagh Aboud, where he paid tribute to the work of the Basra authorities and the Provincial Council. Mr Burt and Dr Shiltagh agreed that Basra, with its immense oil reserves and its access through Umm Qasr to the wider Gulf region, would play an important role in Iraq's economic regeneration. Mr Burt explained that British companies were interested in the commercial opportunities available in Basra. He underlined the importance of local government support in creating the sort of welcoming business climate that would promote investment and growth. At present, it was still a major challenge for international business to penetrate the Iraqi market.
Mr Burt also visited the Rumaila oilfield, where he saw how the British company BP, in partnership with South Oil Company and the Chinese National Petroleum Company, was working to improve oil production in Basra's main oilfield. Mr Burt praised BP's engagement with the local community through education and employment opportunities.
Over lunch, Mr Burt met representatives of Basra's civil society, including religious and academic leaders. Mr Burt complimented those present on the resilience that the people of Basra had shown in the face of recent political violence in the south, including in the city of Basra itself. He was impressed by the example of religious tolerance shown by Basra, in marked contract to attacks against minority religious communities elsewhere in the country.
On his departure, Mr Burt said: "It has been a privilege to visit Basra and see first hand the impressive steps being made to develop the Province. As elsewhere in Iraq, there is still a long way to go but you may be sure that Basra holds a special place in British hearts, and we remain keen to continue to work closely with you. I am delighted that so many world-renowned British companies are starting to engage in business here. I know that, with significant investment by international business and the support of the international community, we can work together to make Basra a safe and prosperous place, and Iraq's gateway to the wider Gulf region."
Search the news archive
Published 26 November 2010