British forces train the Afghans to train themselves
Every two weeks, groups of up to 600 Afghan National Army (ANA) recruits arrive at Camp Bastion. All will have completed basic infantry training…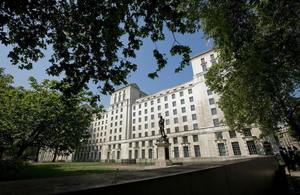 Every two weeks, groups of up to 600 Afghan National Army (ANA) recruits arrive at Camp Bastion. All will have completed basic infantry training at the Kabul Military Training Centre. In the Shorabak training wing of Camp Bastion, British mentors and Afghan instructors add the final touches, preparing the Afghan recruits for combat:
We take them through skill-at-arms and live firing, among many other subjects," explained Captain Anthony Clark-Jones, a British officer based in Shorabak, a small camp on the edge of the sprawling Bastion base.
Captain Clark-Jones is part of The Royal Scots Borderers, 1st Battalion The Royal Regiment of Scotland (1 SCOTS), Operational Mentoring and Liaison Team.
Instruction starts at a low level he explained:
Some of the soldiers go straight to a two-week vehicle course, but they may never have been in a vehicle before," he said.
Getting to grips with a steering wheel is just one of the challenges the recruits face. They are also taught battlefield first aid, how to use radios and how to find improvised explosive devices (IEDs).
The high level of illiteracy among Afghans can make training particularly difficult. Reading and writing are not a prerequisite for recruitment - they cannot be in a country where the level of education is so low:
Some of the men have lived a hand-to-mouth existence until finding themselves in the ANA, living a life that is more organised than they ever imagined," said Captain Clark-Jones. "It's a massive change for them.
Sometimes recruits must be taught the most basic of skills:
How to hold a weapon, how to stand in line, and sometimes even how to wash," he said.
Cultural and language barriers make it hard to communicate with the degree of precision that the soldiers of 1 SCOTS are accustomed to.
Furthermore, military rank can be overridden by tribal and family status. This can make working closely together difficult, but the 1 SCOTS' trainers simply have to get used to it:
I try to explain to the guys that the British way is just one way of doing things," said Captain Clark-Jones.
Nevertheless, establishing training discipline was an early goal for the British team. Training sessions had been haphazard until the team devised a timetable that began at 0800hrs and went through to midday with a couple of breaks.
Captain Clark-Jones said:
The men do their admin in the afternoons, then have time to eat and pray. It's made a difference. The training is now far more professional.
British troops rarely, if ever, find themselves addressing classes packed with Afghan soldiers. Instead, they observe Afghan instructors as they instruct, advising when necessary:
We make recommendations, but ultimately it's the ANA who make the decisions," said Captain Clark-Jones.
We are alongside them rather than leading them, both in classes and when we go out on the ground.
During a signals lesson, recruits are taught how to use the radios they will use on patrols. A British Sergeant stands at the back of the class with an interpreter, observing the ANA trainer.
Other classes are going on outdoors, in the shade of corrugated iron shelters. Afghan soldiers squat beside lanes drawn in the sand, watching as one of their colleagues is shown how to find potential IEDs with a metal detector.
To get around the problem of illiteracy, lessons are picture-led and peppered with demonstrations.
Young recruits sit quietly on wooden beams perched on old ammunition boxes, slouching but listening and watching attentively as an older officer speaks very quickly. Those in the front row clutch radios.
Using them to talk to each other could have been a problem, given that 20 or more different languages are spoken in Afghanistan.
But, as their lingua franca is Dari, the Afghans have already found their own solution to what might have been a breakdown in communications.
Published 9 July 2010