British forces train Kazakh peacekeeping troops
British soldiers have played a key role in a large-scale, multinational military exercise in Kazakhstan this August helping the Kazakh Ministry of Defence to develop a NATO interoperable brigade.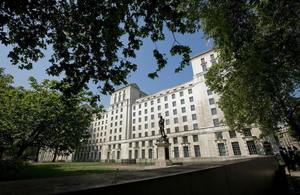 Exercise Steppe Eagle' is held annually with the aim of developing a Kazakh force capable of deploying on UN-mandated peace support operations.
Soldiers from USARCENT (United States Army Forces Central Command) and the Tajik Defence Ministry were also present for the exercise.
The goal for the British soldiers this year was to help train the Kazakh training and mentoring team.
Soldiers were chosen from the Infantry Training Centre in Catterick with suitable experience; they were involved in training their Kazakh counterparts in a variety of drills, from first aid and medical support plans to manning checkpoints and roadblocks.
The soldiers - who came from The Scots Guards, The Welsh Guards, 1st Battalion The Yorkshire Regiment and 3rd Battalion The Parachute Regiment - worked for two weeks at the Illikisey Training Area, 40km north west of Almaty in southern Kazakhstan.
Temperatures often exceeded 35 degrees Celsius during the week.
Her Majesty's Ambassador to Kazakhstan, David Moran, who attended the closing ceremony of Exercise Steppe Eagle, said:
I am delighted to see the values of professionalism that are shared by our two countries, and that the ties between the British and Kazakh Armed Forces continue to grow ever closer.
I very much hope that we will be able to continue to support this exercise in the future.
Major General Jeff Mason Royal Marines, Assistant Chief of the Defence Staff (Logistic Operations), also attended the closing ceremony and held several meetings with Lieutenant General Sembinov, Deputy Defence Minister of Kazakhstan.
General Sembinov expressed his gratitude for the UK participation this year, stressing the benefits of sharing experience, and outlined a number of areas for future co-operation.
Major General Mason said:
This is a NATO-supported multinational exercise, under Kazakhstan's Individual Partnership for Peace action plan.
The UK has contributed to this exercise for the last eight years, and I am pleased to witness at first hand the encouraging progress that the Kazakh Armed Forces have made.
I look forward to our defence relations developing even further through future exercises and through our other joint programmes of work.
Lieutenant General William G Webster of USARCENT, commander of US ground forces in Central Asia and the Middle East, said:
The past performance of our Kazakh brothers in Iraq demonstrates that this exercise has clear benefits. We will leave here better comrades and with our vision for the future reinforced.
Saken Zhasuzakov, First Deputy of the Republic of Kazakhstan, said:
This was a quality exercise. Troops developed mutual understanding, interoperability, tactical teamwork and controllability. I hope that the Steppe Eagle exercises will continue, and that we will hold a more large-scale drill next year.
A British military assessment team also joined soldiers from USARCENT in determining the progress made by the Kazakhs.
They observed soldiers from KAZBAT (Kazakhstan's peacekeeping battalion) and KAZBRIG (the brigade headquarters) run through a variety of scenarios including an emergency river crossing, a parachute drop to provide medical assistance, a dummy chemical attack and a mock scenario where two suicide bombers approached a checkpoint.
The joint assessment team concluded that the KAZBAT and KAZBRIG were making good progress toward full interoperability with NATO forces, demonstrating a promising capability for peace support operations.
Published 16 September 2010