British forces teach children in Kandahar
The school provides the local children with formal lessons and sports activities while their parents are trading. Members of all three British…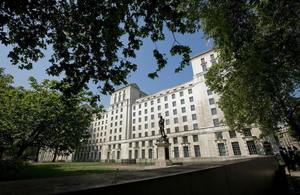 The school provides the local children with formal lessons and sports activities while their parents are trading.
Members of all three British Services stationed at the base take time out to teach the boys in arts and crafts and maths and English before their formal lessons begin with the Afghan teacher, Mr Abdul Raziq.
Every Saturday sees a stream of local traders coming through the main gate of Kandahar Airfield to set up a bazaar selling a wide range of goods to almost 20,000 personnel from the 42 nations serving at the sprawling ISAF base.
Many of the traders bring their sons and nephews, and a Dutch Warrant Officer, browsing the stalls around 18 months ago, noticed that the youngsters didn't have a lot to occupy their time.
He hit upon the idea of setting up a school in an area to one side of the stalls where the children could have formal lessons and a little bit of fun.
School volunteer Andy Carnegie commented:
The KAF Bazaar School is an opportunity for the military population in KAF to interact with local nationals.

The school is a Saturday morning activity school … It gives the chance for the soldiers to interact with local nationals and for the boys to interact with the military.
Teacher Abdul Raziq said:
We have 45 students who are separated into three crews - the seniors, juniors and the brand new ones.
First of all I teach them Pashtu. It is really important for them to learn Pashtu.

Then they learn the ABC, which they can study through English books, and study the English language. They are doing homework, learning and writing the ABCs.
To celebrate Armed Forces Day, a recent session at the school was extended slightly and finished with a sports session and a special football match between the 'bazaar school boys' and British forces.
Unfortunately, the British took their cue from the English national team and lost 3-2.
Lance Corporal Gemma Highsmith, 8 Regiment Royal Logistic Corps, said:
This morning we've been doing a lot of arts of crafts with the children, talking to them, teaching them how to play noughts and crosses, and getting to know the kids.
Corporal Mitch Aldred, KAF Physical Training Instructor (PTI), continued:
Today I've come along as the PTI. I'm going to be trying to referee a football match between the boys, which should be pretty fun.

For those that don't want to play football, there is going to be a game of frisbee.
After a hard few hours of studying, the chance for a sports hour is a welcome break for the boys.
One of the students commented:
We won the football… it was 3-2. I scored two goals. I like football.
See Related Links for a video report from the Bazaar School.
Published 29 June 2010