British Forces News is now available to watch in the UK
British Forces News is currently transmitted in 17 countries every weeknight at 1830hrs CET (Central European Time) on BFBS1 and to Royal Navy…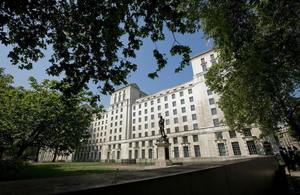 British Forces News is currently transmitted in 17 countries every weeknight at 1830hrs CET (Central European Time) on BFBS1 and to Royal Navy ships through Navy TV. But now it's also being broadcast every weeknight at 1830hrs UK Time on Information TV, via Sky Channel 231 and Freesat Channel 402.
British Forces News brings the latest stories that matter to British troops all around the forces world, as well as to their families and friends and to veterans.
Presented by Kate Gerbeau, the 30-minute news magazine features the latest stories from Afghanistan, Germany, Cyprus, the Falklands, and the many other locations worldwide where British forces live and work.
British Forces News covers issues of warfare, defence policy and military strategy, and runs in-depth reports on matters relating to welfare and family life wherever British forces and their loved ones are located around the world.
The British Forces News team operates 24-hours-a-day, seven-days-a-week from its studios in Buckinghamshire, with regular live international reports from Afghanistan, where BFBS is the only broadcaster with two journalists based permanently at Camp Bastion.
News presenter Kate Gerbeau said:
Until now, British Forces News has only been available to British forces on an encrypted satellite, but by launching on Information TV we can reach out to a much wider audience - not just those serving and their families, but also anyone with an interest in defence news.

We don't just report on breaking national and international stories, we also provide unrivalled in-depth reports on all the issues that matter to Service personnel, including stories of bravery and sacrifice.
Fred Perkins, Chief Executive Officer of Information TV, said:
We are delighted to welcome British Forces News to our current schedule and we look forward to supporting and developing the service as it becomes more widely established in the UK.

British Forces News is of enormous importance to the Forces. By reporting news from across the deployed world it enables all Service people and their families, regardless of where they are based, to make that vital connection.
Published 18 April 2012