British forces help Afghans repair roads in Nad 'Ali
British forces have been assisting Afghans in Nad 'Ali to repair local roads that are vital to local commerce, helping to build confidence in the Afghan Government and increase stability.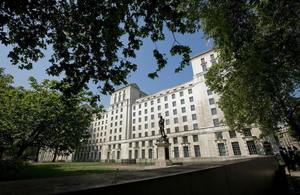 Armed Forces personnel from the Military Stabilisation Support Team based near Andover have been working closely with village elders and local Afghans in Nad 'Ali to make repairs to culverts that had been damaged by traffic. The culverts are vital if roads are to remain useable during the winter months.
The culverts have opened up links between the villages in the Bowri desert and Lashkar Gah, the provincial capital. The locals from the village of Kopak tested the culverts with their fully loaded tractors and are now happy that in the future they will be able to get their crops to market whilst they are still fresh.
The Military Stabilisation Support Team operators approached District Community Council members and local village elders in three different villages to help co-ordinate the repairs. The work was all done by local contractors, who employed labourers from surrounding villages.
Warrant Officer Class 1 Mark Evans, Corps of Army Music, Second-in-Command of the Military Stabilisation Support Team in Nad 'Ali, said:
District Council member Haji Mullah Abdul received praise from the villagers for his organisation of the build; he gave the community real ownership of the project.

Many of the local people are wary of outsiders, but our operators have found that the strong relationships built with key leaders and contractors have enabled the delivery of real and, more importantly, sustainable progress for the community.

I find it extremely gratifying that I have been able to play an active part in assisting progress and returning stability to Nad 'Ali.
Andrew Venus, a Transition Advisor, provides direction and advice to the British forces in Nad 'Ali on how to transition control and responsibility to the Afghans.
He said:
Repairing these culverts is vital to the freedom of movement and infrastructure of the community.
Given the improving security and governance situation throughout Kopak, these projects are now locally contracted, aiding the economic growth and stability of the area.

All these contractors use a local workforce and there is a great sense of community spirit.
Mohammad Jakil, a local farmer from Kopak village, stated:
We are very happy with the road. It means we can bring our crops to market easier with no fear of insurgents.
Tor Jan, a village elder also from Kopak, said:
The bridges are very good. Lots of men from the area were used to build them and are very proud of them. They will not let the Taliban destroy their very good work.
Published 13 June 2012