British forces' Helmand church brightened by kids' paintings
Recently, the Task Force Helmand Headquarters in Lashkar Gah was provided with a new place to worship. However, the padre for 3 Commando Brigade…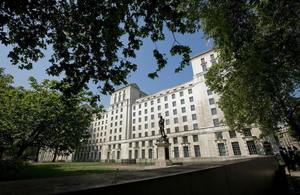 Recently, the Task Force Helmand Headquarters in Lashkar Gah was provided with a new place to worship. However, the padre for 3 Commando Brigade Royal Marines felt the beige and white tent needed a bit of colour.
The tent, which is home to St Martin's church, is fitted with removable plastic windows. So the Reverend Ian Wheatley got in touch with his pastoral worker back in the UK who contacted the head teachers of two primary schools in Plymouth to ask for help. Reverend Wheatley said:
Almost every church has stained glass windows and although ours aren't glass I didn't see any reason why our church couldn't have the same colourful windows. Rather than rely on the artistic talents of the marines and soldiers here, we thought we'd ask children back home to design and make them.
For the last few weeks, pupils from Widewell and Goosewell Primary Schools in Plymouth have been busy working on the brightly decorated PVC panels which have now arrived back at the base in Lashkar Gah.
Reverend Wheatley says he's really impressed:
Most of the ideas were inspired by the work of John Piper, a prolific stained glass artist who designed the post-war windows in St Andrew's Church in Plymouth. We also sought help from Plymouth College of Art and Design who gave us ideas of how to construct them.
Visitors to the St Martin's church service on Sunday got their first glimpse of the windows and Reverend Wheatley says the congregation really appreciated them:
Most of the children at these schools are from Service families and the project has given them a great way of feeling in touch with their loved ones. It's also nice for the Service personnel here to know that people back home are thinking about them.
No ordinary padre, Reverend Wheatley, from Bovey Tracey in Plymouth, completed his commando training at the age of 37 and has spent the majority of his career supporting the Royal Marines on operations, notably during the initial invasion of Iraq in 2003 and the conflict in Sierra Leone.
Since arriving in Afghanistan in April, Reverend Wheatley has been spending his time looking after a chaplaincy team of 10 padres who are responsible for pastoral care for the troops of 3 Commando Brigade. Despite being away from his wife and four children, the 49-year-old enjoys the experience of being on operations:
The separation of being on tour never gets easier; however, I love being with the people here and providing them with support," he said.
Published 9 August 2011