British forces bridge language divide in establishing stability in afghanistan
Dozens of British Service personnel trained to speak Dari or Pashtu in the run up to their Afghanistan deployment have been using their language skills to better communicate with the local Afghan population.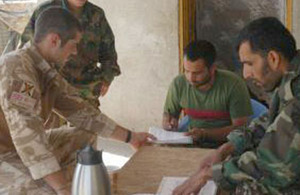 Some of them have now also decided to write bilingual blogs on the British Army and Royal Navy blog sites to reach out to the wider Afghan community as well as people back home.
Lieutenant David Duffus, of The Royal Scots Borderers, 1st Battalion The Royal Regiment of Scotland, who spent nine months learning Dari before arriving in Afghanistan, said:
It just shows a bit of respect, that British soldiers are putting the effort in to try to learn one, the local culture, and two, the language.
Dari is spoken mainly in the north of the country rather than in Helmand province.
But nine out of ten soldiers in the Afghan National Army (ANA) speak Dari rather than Pashtu, and as an adviser to the ANA, based in Sangin, Lieutenant Duffus, from Edinburgh, has found his language skills invaluable:
It just helps you break the ice with the locals and with the ANA," he said. "I can talk directly to the soldiers without needing an interpreter and when we are under fire that can save lives, ours and theirs.
You can get a lot more information as well out of the local nationals. They feel a bit easier if they speak to you in Pashtu or Dari directly.
Royal Marine Rob Milner, of 40 Commando, is also based in Sangin and he speaks fluent Pashtu.
His unit sent him on a year-long course so he would be able to talk to local people and Afghan civilians working directly for the International Security Assistance Force.
While the Royal Marines run Forward Operating Base Jackson in the heart of Sangin, ANA 'Warriors' and the Afghan National Police share it.
This gives Marine Milner plenty of opportunity to practice his Pashtu, although he says it was a little difficult to understand everybody at first.
His Commanding Officer, Lieutenant Colonel Paul James of the 40 Commando Group, stresses the importance of being able to speak the local language:
We work amongst Afghans who are an incredibly proud people. Everyone in the battle group has had to learn a little bit of Pashtu, including myself.
We have ten stock phrases, and when we come out with them the Afghans are delighted. They really appreciate it.
Then while we are wowing them with our limited knowledge we can move the interpreter into place to help us get down to business.
Lieutenant Duffus said his attempts to chat with the locals have sometimes been met with astonishment:
There is one local who lives in the Green Zone who we know quite well, who speaks quite a bit of Dari.
The first time I met him he wouldn't believe it at first. He thought they had dressed me up in British combats and I was really an Afghan soldier.
He says he is certainly picking up lots of military words, both in Dari and Pashtu:
They use some Pashtu military words even though they speak Dari and I am learning them too.
Hopefully I will have quite an extensive grasp of both languages by the time I go home in the autumn.
Lieutenant Duffus is blogging in Dari and English on the British Army's brand new blogging site, which is part of the official British Army website, whilst Marine Milner's blog is on the Royal Navy's blogging site, Jack Speak
Published 8 July 2010