British forces are blogging from Afghanistan
British forces in Afghanistan have launched a mass blogging initiative involving dozens of personnel writing regular posts from the front line on the Army, Navy and RAF websites.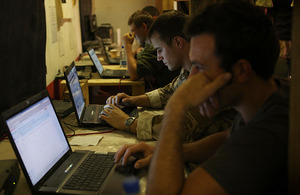 The individual blogs, some of them accompanied by video or podcasts, detail the realities of life on operations so far.
The authors, who range from junior personnel to senior officers, talk about their jobs, their living conditions, their battles and successes, their impressions of Afghanistan and their relations with the locals.
Task Force Helmand spokesman, Lieutenant Colonel James Carr-Smith, said:
This is a first for the British forces. Servicemen and women have been blogging for years of course privately on personal pages, but we have never provided the platform to bring all those blogs together before.
People can follow just one person or a number of bloggers from one regiment, or indeed read them all.
Of all the three Services, the British Army has the most people serving in Afghanistan, and this is reflected in the number of bloggers writing online at www.britisharmy.wordpress.com
They include soldiers from the Royal Dragoon Guards, 1st Battalion The Royal Gurkha Rifles, 1st Battalion The Royal Regiment of Scotland (The Royal Scots Borderers), and 21 Engineer Regiment to name but a few.
In all, eleven regiments are represented so far, but the number of bloggers, and participating units, is growing all the time.
The Royal Navy website features the men of 40 Commando Royal Marines, based in Sangin, on its Jack Speak blog site.
Doctors, gunners, police mentors and even the 40 Commando padre are among those detailing their experiences in regularly updated entries.
The Royal Air Force website features bloggers ranging from RAF medics working in the field hospital in Camp Bastion to RAF firefighters.
The number of blogs on this site will continue to grow to reflect the breadth of the RAF contribution to operations in Afghanistan:
We want more people back home to know what it is our men and women are doing in Afghanistan," said Lt Col Carr-Smith.
And who better to tell those stories than the men and women themselves who are at the forefront of our effort, who operate in very demanding conditions with extremely difficult jobs.
Although this is an initiative for the current deployment (Op HERRICK 12), the aim is that it will continue through future deployments, with more and more Service personnel encouraged to put themselves forward as 'online correspondents'.
The work of British forces in Afghanistan and the wider defence community can also be followed at the Defence News Blog and the official Afghanistan Blog.
Published 1 July 2010