World news story
British expert delivers lectures on public service in Uzbekistan
London Metropolitan University Associate Dean delivered a three day course on Finance, Taxation and Administration in Uzbekistan.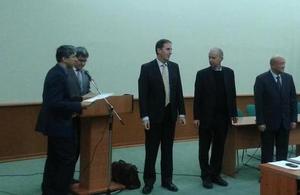 Mr Patrick Gray, Associate Dean – Faculty of Law, Governance and International Relations of London Metropolitan University delivered a three day course on Development of Public Finance, Taxation and Administration systems at the Academy of Public Administration under the President of the Republic of Uzbekistan from 13 to 15 November, supported by the British Embassy in Tashkent in cooperation with the British Council Uzbekistan.
Speaking to the audience at the closing ceremony, Her Majesty's Ambassador, George Edgar, said:
I am very pleased that along with the British Council we have been able to support Patrick Gray's presence here over the last few days. This is the first time we've co-operated in this way with the Academy of Public Administration. The issues that Patrick Gray has been covering are important ones – and ones that I'm familiar with as challenges from my own experience in the UK civil service. I hope that for all of you the past few days have been productive and enjoyable, and I wish you all the best in your important work.
During this course the audience had the opportunity to learn about ways in which public services may be improved through better recruitment and development of civil servants, better policymaking and more effective evaluation.
The Rector of the Academy, Mr Abdujabbor Abduvakhidov, said:
Let me, on behalf of the Academy, our students and faculty members express my gratitude to Mr Patrick Gray for this excellent course. I hope that with the support of the British Embassy and the British Council, this will be the beginning of a longer-term relationship with London Metropolitan University.
Published 2 December 2013