World news story
British Embassy writes to Dutch businesses
The British Embassy has written to businesses in the Netherlands about the publication of UK proposals for future customs arrangements.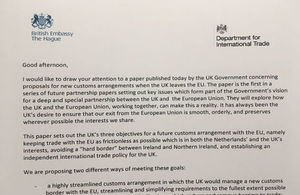 Good afternoon
I would like to draw your attention to a paper published today by the UK Government concerning proposals for new customs arrangements when the UK leaves the EU. The paper is the first in a series of future partnership papers setting out key issues which form part of the Government's vision for a deep and special partnership between the UK and the European Union. They will explore how the UK and the European Union, working together, can make this a reality. It has always been the UK's desire to ensure that our exit from the European Union is smooth, orderly, and preserves wherever possible the interests we share.
This paper sets out the UK's three objectives for a future customs arrangement with the EU, namely keeping trade with the EU as frictionless as possible which is in both the Netherlands' and the UK's interests, avoiding a "hard border" between Ireland and Northern Ireland, and establishing an independent international trade policy for the UK.
We are proposing two different ways of meeting these goals:
a highly streamlined customs arrangement in which the UK would manage a new customs border with the EU, streamlining and simplifying requirements to the fullest extent possible through negotiated and unilateral facilitations which reduce and remove barriers to trade; or

a new customs partnership with the EU, under which the UK would mirror the EU's requirements for imports whose final destination was the EU, negating the need for a customs border between the UK and the EU.
Furthermore, the UK proposes in the paper an interim period with the EU of close association with the Customs Union that would allow for a smooth and orderly transfer to the new regime. A time-limited period of implementation would provide the necessary certainty for businesses in the EU and the UK, and would ensure that our businesses only have to adjust once to a new customs relationship.
The paper can be accessed in full on GOV.UK
I would be interested in your views on the proposals and would welcome the opportunity to discuss these with you when convenient in the near future.
Published 15 August 2017