World news story
British Embassy to support Cambodian Government in fight against money laundering and combatting the financing of terrorism
A five-day workshop on International Best Practices in the field of Anti-Money Laundering and Combatting the Financing of Terrorism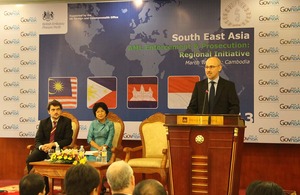 The British Embassy in Phnom Penh is pleased to announce that it is partnering with Key Government Ministries and Departments to provide a five-day workshop on International Best Practices in the field of Anti-Money Laundering and Combatting the Financing of Terrorism.
This training provides a unique opportunity for Cambodian Government departments to benefit from world-class expertise in implementing such legislation to international standards. The training will be provided by UK organisation GovRisk, as part of a regional series of workshops, which also cover Malaysia, Indonesia and the Philippines. The training will take place at the Hotel Cambodiana on the 11th-15th March and will bring together the key stakeholders in the fight against financial crime including FIU, Central Bank, judiciary, prosecutors, law enforcement, tax inspectors, regulatory bodies and the private sector.
GovRisk Faculty member Gert Demmink, a world-renowned expert in money laundering and financial crime (see notes below), will conduct the training. Of the timing of the training, Mr Demmink remarked:
The last twelve months have seen increased scrutiny on AML/CFT standards in the region. We hope to assist some of the key departments in implementing these standards. In doing so, these institutions can enforce and prosecute financial crimes and ensure a strong, stable environment which encourages legitimate business.
The British Ambassador, HE Mr Mark Gooding, commented:
The British Embassy is delighted to support this week's workshop on International Best Practices in the field of Anti-Money Laundering and Combating the Financing of Terrorism. It is vital that the international community works together to address these challenges, which threaten to undermine the good work and reputation of our economies. This project allows us to work in partnership with Cambodian institutions to improve specific skills, which will help Cambodia combat the threat from financial crime and thereby contribute to Cambodia's sustainable economic development.
Further information
Global Money Laundering is estimated at 2-5% of total GDP, or £23-57 billion. Cambodia is particularly vulnerable to this type of illicit activity due to its cash-based economy, the presence of an informal banking system, and porous borders which assist traffickers of drugs and people.
On 22nd February 2013 the Financial Action Task Force (FATF), an intergovernmental body which sets and monitors standards for financial crime prevention, identified Cambodia as one of 26 countries globally with "strategic deficiencies" in its AML/CFT policies and procedures. Also included in this category were Afghanistan, Algeria, Cuba, Sudan and Zimbabwe.
FATF advises that, to be removed from this list, Cambodia must: 1) adequately criminalise money laundering and terrorist financing; 2) establish and implement adequate procedures to identify and freeze terrorist assets; 3) establish and implement adequate procedures for the confiscation of funds related to money laundering; 4) ensure a fully operational and effectively functioning Financial Intelligence Unit; and 5) establish and implement effective controls for cross-border cash transactions.
Under Cambodia's 2007 Law on Anti-Money Laundering and Combating the Financing of Terrorism, the country's financial institutions are required to implement programmes to help prevent and detect money laundering.
For further background on AML/CFT work and approach, please see this IMF blog
About GovRisk:
The International Governance and Risk Institute is a group of professionals who share a passion, a vision and a common belief. This is that only through continuing collaboration, exchanging information and regular education can professionals and the organisations they represent in the financial sector, regulatory bodies and law enforcement fundamentally develop better and safer working practices.
Since 2010 GovRisk has provided high quality consultancy and training programmes to public and private sector institutions from more than 30 countries.
We offer a wide variety of programmes covering specific topics within the broad fields of financial crime, corruption, risk management and governance. Consultancy work and training courses are designed to give participants highly practical and tailored guidance on how to incorporate international best practice techniques in their professional duties.
Published 11 March 2013