World news story
British embassy supports first Hungarian sign language film series
This was published under the 2010 to 2015 Conservative and Liberal Democrat coalition government
The British Embassy Budapest signed a co-operation agreement with 90 decibel Project on 5 June 2013.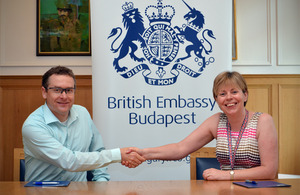 The British embassy in Hungary is supporting the making of Hungary's first sign language report film series of 5 episodes that will depict British best practices in the integration of deaf and blind people in the UK's labour market, cultural life, sports and governmental organisations.
A co-operation agreement outlining British embassy support was signed yesterday by Theresa Bubbear, Deputy Head of Mission and Ervin Bonecz, Managing Director of 90 decibel, a Hungarian NGO working for the social inclusion of the physically impaired in Hungary.
Great Britain is one of the world's leading countries in disability rights and diversity. We hope that the sign language film series on British best practices may help the Hungarian society and decision makers to introduce similar solutions in Hungary for the successful social inclusion of people living with disabilities.
Theresa Bubbear, Deputy Head of Mission of the British Embassy said:
As an Honorary Patron of the 90 decibel project, I am delighted to continue the successful collaboration between the British Embassy in Hungary and 90 decibel, a pioneering organisation providing free access for blind and deaf people to culture and education in Hungary.
The planned film series will comprise 5 episodes (20 minutes each) that will be entirely voiceless, shot in Hungarian and international sign language and subtitled in English and Hungarian. Filmmakers of the 90 Decibel Media will make sign-language interviews in London with representatives of the British Foreign and Commonwealth Office, the BBC (that has a special department for accessibility), 2 British theatres and a special music school for deaf children.
The film series will show the excellent examples we saw in the UK on how disabled people enjoy the same access, rights and freedom that everyone else enjoys in various fields of life and society. We greatly appreciate the British embassy's continued support that will now facilitate the production of Hungary's first sign language film series.
Ervin Bonecz of 90 decibel said.
The interviews for the films will be made by Tímea Mázló, a Hungarian deaf actress. The short film series will initially be available online on 90 decibel's website, as well as on T-Home IPTV and on Android and iOS.