World news story
British Embassy supports cycling culture activities in Guatemala City
Guatemala is currently experiencing an important growth in bike-enthusiasts and the British Embassy has joined them, along with other partners, in a full month programme to promote a cycling culture as part of the Sport Is GREAT campaign.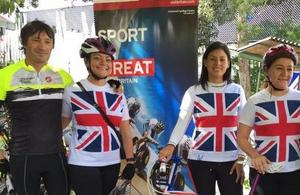 The British Embassy in Guatemala City and Saul L'Osteria launched the first Bicycle-Expo from 25 July to 23 August. The event will showcase the most original bicycles, from ancient ones to modern state of the art machines, some of which can still be seen in the streets of the City.
The launch event took place on 25 July and started with a bicycle tour around the city with the participation of Andrew Tate, Charge d'Affaires of the British Embassy, other members of the Embassy staff, and the general public. Live music, special activities for families, and storytellers also formed part of the inaugural day's activities.
Across Guatemala City, people are identifying great potential in re-inventing themselves as cycling-enthusiasts – not as a regression into the past, but as an investment in their future, from an environmental, a human health, and a tourism standpoint. The municipal authorities have also helped in this effort by regulating traffic in favour of cyclists and installing special routes.
To mark this event, Andrew Tate, Charge d'Affaires of the British Embassy said:
The British Embassy is joining this effort as part of our Sport is GREAT Campaign, which is part of the wider GREAT campaign promoting all that is best about the UK. Sport plays an important part in all our lives, from the stars that inspire us, to unforgettable sporting moments and the thrill of taking part ourselves, and no country is more passionate about its sport than the UK. I invite you all to join us in this event and the growing cycling culture in Guatemala.
Published 26 July 2015