British Embassy supports Costa Rican blood donation campaign
The British Embassy in Costa Rica and the Costa Rican Blood Bank organised and hosted a blood donation session.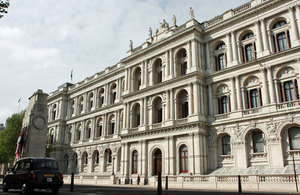 For the third consecutive year the British Embassy in San Jose organised and hosted a blood donation operation at the Embassy, located on the 11th floor of the Centro Colon office tower in San Jose.
This year's campaign, once again headed by Edith Salgado of the Embassy, saw 41 people donate blood and has established the event as an annual Embassy tradition. Staff from the Israeli and Swiss Embassies as well as the International Development Bank took part as well as staff from other offices in Centro Colon.
The Costa Rican Blood Bank provides blood to all Costa Rican state hospitals and have difficulty keeping up with the demand. For this reason the British Embassy has established this tradition and has built up much good will from the community as a result.
Search the news archive
Published 19 August 2010