World news story
British Embassy supports agricultural development in Kosovo
Embassy project helps the Agriculture Development Agency administer national agricultural funds effectively and efficiently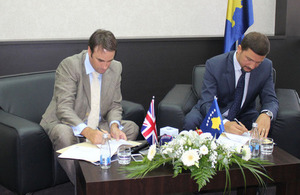 On 13 August 2015, Ambassador Ruairí O'Connell and the Minister of Agriculture, Forestry and Rural Development, Memli Krasniqi, signed the contract for the project "Support for the effective and efficient administration of national agricultural funds in Kosovo". The beneficiary of this project is the Kosovo Agriculture Development Agency - the institution in charge of processing, dispersing, and monitoring the implementation of the Government grants and subsidies for the agricultural sector.
Through this support, the Agriculture Development Agency will gain 5 additional staff to assist in processing and inspecting applications from farmers. The support will last until 2016, after which time the Kosovo Government will incorporate these positions into the Agency and finance them from the Kosovo budget.
Agricultural development is one of the objectives of the Kosovo Government which has real potential to generate new jobs and improve Kosovo's trade balance.
During the signing ceremony at the Ministry of Agriculture, Ambassador O'Connell said:
Rural areas have the potential to be Kosovo's most prosperous areas. However, for this to happen, Kosovo needs hard work, good ideas, and smart investments. It also needs everyone to contribute and take responsibility - policymakers, civil servants and citizens.
Minister Krasniqi said:
I am deeply thankful to the British Embassy Pristina for assisting the Agriculture Development Agency and to Ambassador O'Connell for his personal interest and support towards the agriculture sector in Kosovo.
For more information on our activities, please visit the British Embassy Pristina website or follow us on Facebook and Twitter.
Published 13 August 2015