World news story
British Embassy Sofia visits NATO exercise in the Black Sea
This was published under the 2010 to 2015 Conservative and Liberal Democrat coalition government
British diplomats visit HMS CHIDDINGFOLD, a Royal Navy minehunter, that is taking part in the NATO multinational exercise Breeze 2014 in Burgas.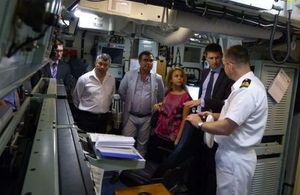 On 8 July 2014, Michael Davidson, Deputy Ambassador at the British Embassy Sofia, and Laurence McGivern, Head of Political Section, visited the HMS CHIDDINGFOLD. The British diplomats toured the ship with Commanding Officer Lt. Cdr. Rees and Deputy Mayor Stoychev, Deputy Regional Governor Vrabchev and senior representatives of the Port of Burgas.
The Deputy Ambassador and Head of Political Section also met with the Regional Governor of Bourgas Municipality, Mr Marinov.
During the visit the Deputy Ambassador emphasised the importance of the NATO exercises in the Black Sea and UK commitment to the relationship between our two countries. He also discussed NATO solidarity and readiness in the region.
The HMS CHIDDINGFOLD of the Royal Navy (UK) is an advanced minehunter that has travelled to the Black Sea to take part in this exercise. The ship will, along with other ships from the NATO force, help to train the Bulgarian Navy through a series of crisis exercises.
Michael Davidson, Deputy Ambassador, said:
I am delighted that HMS Chiddingfold has travelled such a long way to participate in these exercises. I am sure that the professionalism and expertise of her crew and Commanding Officer will help to develop Bulgarian capacity. As we all understand it is vital that NATO allies demonstrate our commitment to one another. UK commitment remains as steadfast today, as 10 years ago when Bulgaria first joined.
Background and more about UK in NATO
Breeze 2014 is part of a regularly scheduled deployment to enhance NATO commitment in the region and aims to improve the tactical compatibility and collaboration of the naval forces of different NATO member-states.
The UK is a key influencer in NATO-led operations to ensure international peace and security, and ultimately national security. The UK is the second-largest contributor to NATO-led operations, with more than 9,500 personnel deployed in support of NATO. The UK Joint Delegation to NATO (UKDel) works to ensure NATO operations meet UK strategic interests.