World news story
British Embassy Sofia, UNICEF and Liverpool FC Foundation support Bulgarian children
This was published under the 2010 to 2015 Conservative and Liberal Democrat coalition government
Coaches from Liverpool FC Foundation and the British Ambassador train with children in Sofia to raise awareness about children's issues.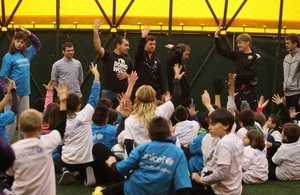 On 26 November 2014, coaches from Liverpool FC Foundation together with the British Ambassador, Jonathan Allen, had a coaching session followed by a football match to help raise awareness about children's issues in Bulgaria. Forty children from Bulgaria, including children with disabilities, children from care institutions and children from minority communities, took part in the football match. UNICEF Bulgaria is a partner in the initiative.
The training was part of Liverpool FC's visit to Sofia for the Champions League match against Ludogorets FC on 26 November 2014 in Sofia.
On 25 November, the British Ambassador's wife, Elizabeth Allen, hosted an event in partnership with UNICEF Bulgaria to raise awareness about the problems facing vulnerable children in the country. These challenges include implementing the strategy for deinstitutionalisation, preventing child abandonment, and integrating children with special needs and those from minority backgrounds into local communities. Liverpool FC Foundation, on its side, spoke about its charity work with children in the UK. Guests of the event were Liverpool FC players, representatives of the Club, Ludogorets FC, Bulgarian state institutions and the NGO sector, and business people.
As part of the initiative Liverpool FC and Ludogorets FC donated signed memorabilia for football fans to win. Each team gave away a signed football T-shirt and football, and Liverpool FC also donated a limited edition play station game FIFA 2015. The money raised goes to UNICEF to help children in need.
Jonathan Allen, British Ambassador to Bulgaria, said:
I am very pleased to welcome Liverpool FC Foundation to Bulgaria. This is a great opportunity to raise awareness about children's issues in Bulgaria and share experience between Bulgaria and Britain in the areas of childcare, social services and education. Supporting young people to reach their potential is a condition for the success and development of every country in the world.
Tanya Radocaj, UNICEF Representative for Bulgaria, commented:
Football, football teams and players have the power to reach broad audiences and motivate many people to do more for children. On the other hand, in UNICEF we know what needs to be done and how we can achieve lasting results. We make a good team together. In essence, it is about one and the same thing: combining strengths of different players to reach the goal. Together, we score for children, and everybody wins.
Andrea Cooper, head of the Club's official charity, Liverpool FC Foundation, said:
We are delighted to attend the events – kindly hosted by Jonathan and Elizabeth Allen and in partnership with UNICEF. Our mission is to inspire people to make positive change happen for themselves and others – on the back of their passion for Liverpool Football Club. Our professional coaching staff is really looking forward to coaching local young people in Sofia, which is something that we have been delivering in local communities in the UK for the past 20 years.
The charity events surrounding the Liverpool FC visit send a message about the importance of early childhood development. Every child – regardless of gender, ethnicity, disadvantages – deserves the best possible start in life. Only this way can children develop their full potential – score better results in school, and have equal changes to become healthier and more productive adults. Bulgaria has achieved some progress in providing vulnerable children – especially those in state care institutions – with the opportunity to grow up in family environment. But more needs to be done regarding baby abandonment, where Bulgaria holds one of the first places in the European Union. In this regard, the coaching event with children was designed to celebrate what they can do, not what they can't do.
Document information
Published: 26 November 2014