World news story
British Embassy Sofia organises LiberTeas debate on corruption
The British Embassy hosted a debate with students, legal professionals and active citizens to discuss corruption.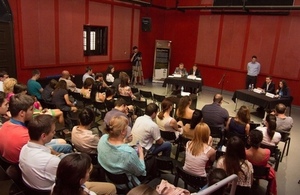 On June 14, 2015 the British Embassy in Sofia and the Sofia Debate Association organised a LiberTeas debate to engage with active citizens about the fight against corruption. The debate was organised in the style of the British Parliament and the motion for the debate was – "Corruption is the price we pay for democracy". A number of topical issues related to the fight against corruption were discussed with a focus on the role of personal responsibility in establishing a corruption-free society and how state institutions can lead the fight against corruption in Bulgaria. The audience took an active part in a questions and answers session which followed the debate.
Ambassador Emma Hopkins OBE who also addressed the audience said:
This was a really lively debate that showed why tackling corruption is the only way to ensure that no one is above the law. The rule of law ensures a level playing field of guaranteed rights and freedoms that go to the core of what it means to live in a democracy. This event showed the support that exists within society to tackle corruption here in Bulgaria. The Embassy and the UK stand ready to help the government of Bulgaria to move ahead with its plans to do exactly this.
The event is part of the British Embassy's Magna Carta campaign which celebrates the legacy of Magna Carta, in particular the principle that no one is above the law. The LiberTeas campaign took part across the globe as events were held to celebrate the sealing of this historic document.
Published 15 June 2015