World news story
British Embassy Sofia co-hosts a seminar on better regulation
British and Bulgarian experts exchange experience in doing impact assessments to strengthen local administrative capacity.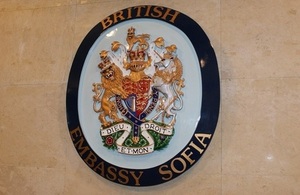 In an effort to reduce the legislative burden on business and create a more stable legislative process, on 17 June 2014 the British Embassy in Sofia, the Council of Ministers and the European Commission, organised a working seminar "Better Regulation – the Road to Economic Growth". The seminar was opened by the British Ambassador to Bulgaria Jonathan Allen and Deputy Prime Minister Daniela Bobeva. It featured UK guest lecturers and experts David Miller and Helen McColm from the Department for Business Innovation & Skills and Konstantin Pashev, from the European Commission. The seminar examined the importance of impact assessments and practical steps for producing evidence based evaluation of the costs and benefits new legislation imposes on business and consumers.
British experts shared experience with Red Tape Challenge and discussed how such a campaign could be branded in Bulgaria. In the UK the public is consulted by government officials in order to provide a clearer picture of which regulations should stay, which should go and which should change. Ministers then have three months to decide which regulations they will scrap, with the presumption that all burdensome regulations will go unless the government departments can justify why they are needed.
In Bulgaria the practice is still relatively limited but positive examples were discussed. Administrative potential to develop impact assessments in Bulgaria is fast developing across ministries and the Council of Ministers oversees the administrative framework for their broader application. Bulgarian experts were focused on analysing the costs to small and medium enterprises when planning and composing required regulatory procedures. This is important, as smaller enterprises suffer most from poor regulation.
Ambassador Jonathan Allen commented:
I am very glad that the Embassy has organised this British-Bulgarian seminar on impact assessments. It is a chance for experts to meet and exchange experience and best practices. Laws need to be better written to ensure that there are no unexpected impacts on business and society. We hope that this seminar contributes to making impact assessments a usual practice in Bulgarian legislation.
Published 18 June 2014
Last updated 19 June 2014
+ show all updates
Added translation
Added translation