World news story
British Embassy Rabat opens book of condolence for Lady Thatcher
Ambassador Clive Alderton's statement following the death of former Prime Minister Baroness Thatcher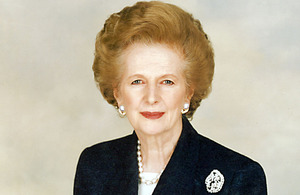 British Ambassador to Morocco, Clive Alderton, has spoken to Moroccan media about former British Prime Minister Margaret Thatcher:
It is with great regret that we learned of the death on Monday 8 April of former British Prime Minister Margaret Thatcher. She made a huge impact on British politics, as the first female Prime Minister, the winner of three general elections, and the longest-serving British Prime Minister of the 20th century. She will be remembered for her ambitious economic reforms throughout the 1980s, the role she played in collapse of Communism culminating in the fall of the Berlin Wall in 1989, as well as for her relationship with the European Union. While we remember Margaret Thatcher's leadership and political career, most of all today we think of her family and send our sympathies to them.
The British Embassy in Rabat is opening a condolence book for signatures as a tribute to Baroness Margaret Thatcher. This will be open to the public on Wednesday 10, Thursday 11, and Friday 12 April from 10:00 to 12.00 am at the British Embassy, rue Emir Sidi Mohammed, Souissi, Rabat.
Members of the public can also submit tributes via our Facebook page: UK in Morocco.
Published 10 April 2013