World news story
British Embassy Quito reception coincides with 128th Inter-Parliamentary Union
Reception held for Inter-Parliamentary Union Delegates and local guests in Quito.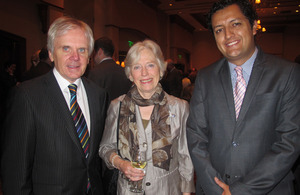 The British Embassy in Quito and the British Inter-Parliamentary Union delegation jointly organised a reception on Monday, 25 March in the Marriott Hotel to coincide with the 128th Assembly of the Inter-Parliamentary Union (IPU), which took place in Quito between 22-27 March.
The reception was hosted by Robert Walker, British Member of Parliament and Chair of the British Group of the IPU, and by Patrick Mullee, British Ambassador to Ecuador. Both Patrick Mullee and Robert Walker gave speeches, and traditional Scottish music was provided by bagpipe player Nicolas Schipper.
The reception was attended by around 120 guests, including Ecuadorean authorities, delegates from various countries to the IPU assembly, representatives from British businesses in Ecuador and members of the British community.
Also in attendance was Baroness Gloria Hooper, a life peer in the House of Lords and member of the British Delegation. Baroness Hooper studied in Ecuador at the Universidad Central del Ecuador, and also opened the British School of Quito in 1995.
Other prominent attendees were Daniel Ortega of the Ecuadorean Ministry of Foreign Affairs, Peter Schwaiger, Head of the EU Delegation in Ecuador, Ramiro Cazar, Ecuadorean Vice Minister of Renewable Energy, and Pablo Dávila, President of the Ecuadorean Chamber of Industry and Production.
Published 27 March 2013