British Embassy policy officer wins Civil Service Diversity and Equality Award
Levente Nyitrai, a policy officer in the British Embassy in Budapest, has been declared the individual award winner in this year's Civil Service Diversity and Equality Awards.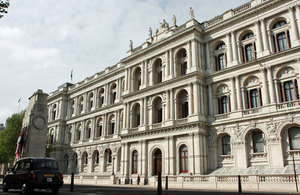 Levente is a locally engaged member of staff in Hungary who leads on human rights and diversity. He received the award for his work promoting the rights of the Lesbian Gay Bisexual and Transgender (LGBT), Jewish and Roma minorities in Hungary. Levente's dedication, commitment, endless energy and knowledge of the issues were highlighted at the award ceremony.
The Embassy in Hungary has supported numerous projects that promote acceptance, tolerance and equal opportunities, and much of its success has been down to Levente's hard work. Projects include ZARE (Music Against Racism) which uses music to stand up against racism, and the campaign for Roma law enforcement, which provides afterschool training and opportunities to join the police force for young Roma people.
The embassy was involved in organising the LGBT business and human rights forum focusing on the importance of inclusion in workplace environments and company policy. It also organised a second Human Rights movie day screening Hungarian documentaries on Roma, LGBT and Jewish issues.
Published 31 October 2012