World news story
British Embassy Oslo supports Europride
This was published under the 2010 to 2015 Conservative and Liberal Democrat coalition government
The British Embassy in Oslo has put up a fun display of rainbow-coloured balloons to show support for Europride which takes place in Oslo this week.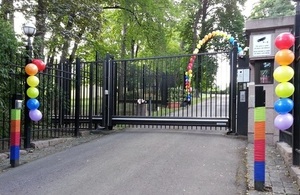 Ambassador Jane Owen said:
The British Embassy is keen to display its solidarity for Europride in Oslo. The UK government actively supports LGBT rights in the interests of creating a fairer and more equal society. Norway was ahead of us in legalising same sex marriage in 2009, but I am pleased to say we are celebrating the UK's first gay marriages this year after same sex marriage was legalised in 2013.

Human rights are universal and should apply equally to all people. The British Government works with countries around the world and within the EU, the Commonwealth and the UN to uphold the rights and freedoms of LGBT people in all circumstances, and believes that the international community must address all forms of discrimination, including on the basis of sexual orientation and gender identity, and promote respect for diversity.
Background
The Foreign and Commonwealth Office at King Charles Street (opposite 10 Downing St) in Whitehall will be flying the rainbow flag this Saturday 28 June.
FCO staff and other civil servants will take part in Saturday's London PRIDE Parade, with the theme "Celebration of Gay Marriage." The first marriages between same-sex couples in the UK happened on 29 March 2014 following the passing of the Marriage (Same Sex Couples) Act 2013 legislation last year. 28 June is also Armed Forces Day and members of the Army, Navy and Royal Air Force will march in the Parade.