World news story
British Embassy Open Day showcases the best of the UK
The event celebrated Queen Elizabeth II's 90th birthday and the 400th anniversary of the death of British playwright William Shakespeare.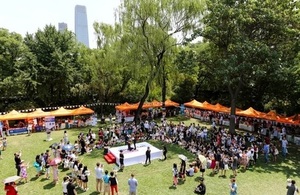 On Saturday 25 June 2016, the British Embassy Beijing, in partnership with Xiaozhan Education, hosted the second annual British Embassy Open Day event at the British Ambassador to China's Residence. The event provided a unique opportunity for the Chinese public to enter the Residence and discover all the many aspects of British culture, education, tourism and business.
Following on from last year's successful inaugural event, the British Embassy opened the Ambassador's Residence doors once more to no less than 1,200 members of the public, all eager to experience the best of British culture. This event commemorated two special events for the UK: the 90th birthday of Her Majesty Queen Elizabeth II and the 400th anniversary of the death of world-renowned British playwright, William Shakespeare.
Linked to these two themes, a range of interactive features and activities were on display for visitors to experience, providing a fun environment for guests to learn more about the UK. These included talks on British culture, theatrical Shakespeare performances, a royal throne area and afternoon tea tastings.
Mr. Martyn Roper, British Embassy Chargé d'Affaires, the host of the event said:
The British Embassy Open Day is a very special event as we open up our doors for the Chinese public to come and discover all the many aspects of what makes the UK so unique, from culture, to education, to tourism to business.

We want to connect people and increase our mutual understanding of our two great countries. We hope our visitors get the chance to experience the breadth and quality that the UK offers.
The British Ambassador's Residence was decorated with a distinctive British atmosphere. Event partner Xiaozhan Education, a one-stop service platform for studying abroad, and JUMORE, an e-commerce platform, were also at the scene to help promote British education and China-Britain trade.
Meanwhile, the event brought together almost 30 organisations showcasing the best of Britain: British university representatives, as well as numerous well-known British brands and agencies, including Fulton Umbrellas, Walls ice cream, Manchester City FC, and AELTC Wimbledon Championships. It is reported that more than 650,000 international students go to study in Britain each year, and 140,000 of them are from China. As for tourism, Chinese visitors to Britain grew by 56% in 2015 over 2014, making China one of Britain's TOP 10 Most Valued Inbound Tourism Markets.
Liu Wei, Partner and Vice-President, Xiaozhan Education:
Britain has long been a first-choice destination for international students to study abroad. Studying in Britain has entered a golden era. We hope that Xiaozhan Education can help future students through our one-stop studying abroad platform.

In addition to the examinations, applications and travel preparations, we will also want to help students adapt to the local culture, successfully complete their studies and find employment.
In celebration of the 400th anniversary of the death of William Shakespeare, earlier this year the UK launched an invitation to the world to join in the celebrations by experiencing the work of Shakespeare and its continuing vibrancy and relevancy directly on stage, through film, exhibitions and in schools. Coinciding with this, the British Embassy Open Day organised performances on the day from Wellington College International Tianjin and the local Mamahuhu Troupe. There was also a large-scale 'scavenger hunt' across the British Ambassador's gardens, encouraging guests to find life-size installations of famous characters, providing a fun opportunity for guests to learn more about the Bard's great works. Furthermore, guests were encouraged to record their favourite Shakespeare quotes in a special booth as part of the social media campaign Play Your Part.
Meanwhile, an indoor photo exhibition on Her Majesty Queen Elizabeth II and China: State Visits in 1986 and 2015 invited the public to relive the two state visits, demonstrating the close ties between the great nations of Britain and China. 2016 also marked the 30th anniversary of the Queen's state visit to China and last October's successful State Visit of Chinese President Xi Jinping and Peng Liyuan.
The British Embassy Open Day also provided a platform for British Embassy staff members, British organisations and special guests to give lectures on a range of subjects relating to the UK, allowing guests a glimpse into some of the work the British Embassy does in China. Special guest and local celebrity, Ma Weiwei, "Let's Talk" Champion Debater & host, spoke about gender equality, a topic of great significance to the British Embassy.
Ma Weiwei, Champion Debater, Let's Talk:
I'm thrilled to be invited to this special event which will help the Chinese public gain a deeper insight into the UK and promote the mutual understanding and cultural exchanges between our two nations.

The British Embassy has long promoted gender equality, and I also hope to do my part in getting women's voices heard.
Published 1 July 2016