World news story
British Embassy Netherlands continues open forums on Brexit
In September, the British Embassy hosted a second series of open forums for British people living in the Netherlands.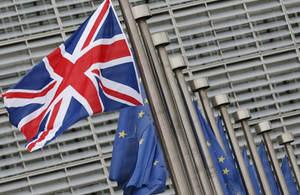 More than 300 people attended our open forums in Arnhem, Groningen, Rotterdam, Eindhoven, Maastricht, Amsterdam and The Hague. As with the first series of open forums, we streamed the meeting in Amsterdam via Facebook Live to ensure those who were unable to attend the forums could also join in the discussion.
The decision to leave the European Union remains an issue that leaves British citizens in the Netherlands with many concerns and we recognise that this remains an emotive subject. We have summarised the issues raised during the second series of open forums below and shared them with both the British and Dutch governments.
Summary account of second series of open forums in the Netherlands (PDF, 196KB, 1 page)
In order to continue to reach as many Brits living in the Netherlands as possible, we will focus in future on digital engagement. Be sure to follow us on Facebook and Twitter.
If you would like to be added to our mailing list, please email ukinnl@fco.gov.uk
Published 24 November 2017