World news story
British Embassy Manila hosts Senate Forum
This was published under the 2010 to 2015 Conservative and Liberal Democrat coalition government
The British Embassy Manila recently hosted a forum on: The UK Parliament, Committees & Devolution: Parallels with the Philippine Legislature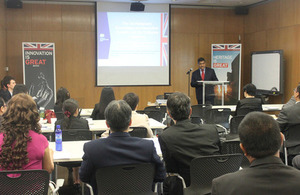 As the 16th Congress opens, officials working in the Philippine Senate participated in a pioneer forum towards a long-term institutional engagement with the international community.
In partnership with the Association of Committee Secretaries of the Senate (ACeS), the British Embassy Manila recently hosted a forum on "The UK Parliament, Committees and Devolution: Parallels with the Philippine Legislature" for Senate Secretariat officials and Committee Secretaries held at the British Embassy Manila.
The forum offered a unique platform to exchange views on the differences and similarities of the UK and Philippine legislative systems. The forum also covered how devolution can strengthen governance and enhance local accountability. Professor Clarita Carlos, PhD provided insightful comparative analysis on UK and Philippine legislatures citing the imperatives of strengthening the political parties to respond to the evolving demands for institutional accountability.
British Ambassador Designate Asif Ahmad said:
The UK's best relationships around the world are with countries that are democratic such as the Philippines. This is a valuable learning opportunity for all of us to share our experiences, listen to our respective insights and draw useful comparisons. Around the world, we hear the growing demand for transparency and accountability, improvement in business environment and consistent application of the law. Institutions such as the Senate play a crucial role in responding to these challenges. I'm therefore delighted that the UK was invited to be a part of the institutional partnership the Senate is pursuing with international partners.
One of the participants from the Senate, Chair of the Association of Committee Secretaries of the Senate of the Philippines (ACeS) Ambrosio Manaligod Jr, was interested to learn about the various levels of scrutiny in the UK Parliament and the UK's process of devolution, particularly as the Philippines sets its own course with the Bangsamoro Framework Agreement.
Mr. Manaligod said:
Devolution has meant the creation of a whole new level of decentralised government which has presented aspects of proportional representation, and enabled the devolved parliaments and assemblies to function as not mere replicas of the Westminster parliament.
More photos can be found on our Flickr page.
Document information
Published: 4 September 2013