World news story
British Embassy Madrid on social media
Follow the news and activities of the British Embassy Madrid and the British consulates in Spain.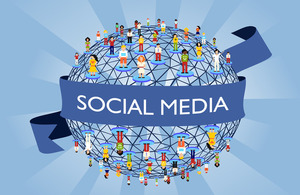 As social media continues to evolve into one of the most important ways to communicate online, we are developing a strong presence across a range of channels, making us more accessible, more open and more transparent in the way we communicate.
You can follow us on:
Facebook:
Uk in Spain - Follow our events, news and activities from the FCO and our partners (in Spanish and in English)
Brits living in Spain - Up to date advice and information from British Embassy in Madrid which is important for British residents living some or all the year in Spain.
Brits visiting Spain - Planning a visit to Spain? We share with you information to help you have a great holiday without any of the hassle.
Twitter:
Flickr:
www.flickr.com/photos/ukinspain - Our events, our Ambassador's visits in pictures, Ministerial visits.
Youtube:
www.youtube.com/user/ukforeignoffice - Watch our videos with UK Ministers, policy experts, case studies, and much more.
LinkedIn:
UKTI Spain group - This UKTI LinkedIn group brings together trade and investment experts and businesses. It offers knowledge, insight and support, facilitating connections to help businesses achieve international success.
British Scientist in Spain: Network to promote communication within the community of British scientists working in Spain and foster scientific collaboration between the UK and Spain, triggering partnerships between this community and public/private institutions linked to research.
Instagram:
SimonManleyFCO - Our Instagram account offers photos and short videos of Ambassador´s diplomat activity.
Blogs
Our DHM´s blog: blogs.fco.gov.uk/danielpruce/ - Read Daniel Pruce blog, commenting on UK foreign policy in Spain and our bilateral work (In Spanish and and in English)
Published 27 March 2013