World news story
British Embassy Lima appoints its 'Ambassador for a day' to mark International Women's Day
The winner of a digital campaign participated in a full day of activities focussed on women's rights and presented a UK call to action to end modern slavery.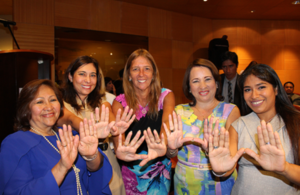 As part of a global campaign, British Embassy Lima organised a video contest to select an 'Ambassador for a Day' to mark International Women's Day on 8 March 2018. Using the hashtag #IWDPeru18, over 50 women from across Peru submitted short videos discussing the importance of education for women and girls.
As part of her agenda for the day, winner Raquel Monge Velásquez (watch her video here), met Peruvian Prime Minister Mercedes Aráoz, and the Minister of Women, Ana Maria Choquehuanca, and had the opportunity to share her vision of the role education for women and girls in Peru and to present them with a UK call to action to eradicate forced labour, modern slavery and human trafficking.
Our Ambassador for the Day took part in the traditional trading bell ceremony at the Lima Stock Exchange (BVL), where she was joined four Peruvian ministers Ana Maria Choquehuanca (Minister of Women and Vulnerable Peoples), Angela Grossheim (Minister of Energy & Mines), Lieneke Schol (Minister of Production), and Elsa Galarza (Minister of Environment).
During a networking session, Raquel met women leaders of British companies in Peru and joined a brainstorming session organised by the QBP planning committee for Her Majesty Queen Elizabeth II's birthday reception. She also had the opportunity to attend various political meetings and sat down with a representative of the United Nations in Peru.
Colin Gray, Chargé d'Affaires at the British Embassy in Lima, said:
Congratulations to Raquel on becoming the UK's Ambassador for a Day. I wish to thank all our participants, who have been amazing. The final selection process was harder than we had expected given the high quality of the videos.

The education and empowerment of women and girls is a priority for the UK. This initiative represents a first step towards our goal of achieving equal opportunities, and we will continue to work together to defend the rights of all women and girls in Peru.
On behalf of the Embassy, Raquel received a certificate from the Embassy, Paddington Bear gifts, and a three month scholarship to study English at BRITANICO.
2018 marks one hundred years since the UK partially granted women the right to vote. The "Representation of the People Act" passed by Parliament granted the right to vote to women over 30 years of age, albeit with the requirement of being a property owner.
More information about the winner
Raquel Monge Velásquez (29 years old) began studying engineering at the National Agrarian University of La Molina, but her vocation to help those in need led her to change and study medicine at the University of San Juan Bautista.
She has been a volunteer firefighter at the British Fire Brigade (BFB) Victoria 8 (Lima) for almost 10 years, where she serves as a second lieutenant. It is in her role as a firefighter that she met her husband, with whom she has a two-year-old daughter.
Raquel said:
With support from my husband and my family, I try to divide my time so that I can fulfil all the roles I have. Thank God I have always received their support, and the support of my fellow firefighters, who were the ones who encouraged me to do the video.
Published 14 March 2018