World news story
British Embassy launches its version of "Twas the night before Christmas"
From:

Part of:

Published:

16 December 2014
This was published under the 2010 to 2015 Conservative and Liberal Democrat coalition government
The British embassies launched a digital campaign inspired by the famous poem " 'Twas the Night Before Christmas" by Clement Clarke Moore.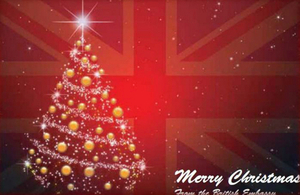 Ahead of Christmas, the British embassies in the UAE launched a digital campaign on their social media channels inspired by the famous poem " 'Twas the Night Before Christmas" by Clement Clarke Moore.
The campaign on Facebook and Twitter aims to encourage British nationals to become accustomed with the UAE's laws and to respect local traditions in order to enjoy a trouble-free festive season.
The poem, which is being released in sections between 14th and 22nd December, is called 'Twas the night before flying'; it involves a Mr Stu Nicholas who moves to the UAE with his spouse and encounters a number of dilemmas in the run up to Christmas. The problems covered include visiting relatives who arrive without travel insurance and banned medication.
Her Majesty's Consul General in Dubai and the Northern Emirates Edward Hobart said:
The UAE is the home for more than 100,000 British nationals and is visited by approximately one million British tourists every year. Christmas and the New Year in the UAE can be a lot of fun, but to avoid dampening the festivities, for ourselves and others, it's important to familiarise one's self with the UAE's laws and customs.
Notes to Editors:
The British Embassy's version of 'Twas the Night Before Christmas':
'Twas the night before flying, at Stu Nicholas's house,
Off to the Emirates, along with his spouse.
The cases were full, but packed with ill care,
Banned medication inside - a customs nightmare!
He forgot to check FCO travel advice,
For that he might pay an almighty price.
With visa in passport and job contract signed,
A place of safe hiding, Stu looked to find.
He placed carefully his passport in a safe place
And carried around a copy that he brought in his case
To the work Christmas party, off Stu went,
For an evening of dancing and merriment.
No holding of hands, or Christmas kisses,
Under the mistletoe, despite amorous wishes.
So time to go home after several spirits neat,
But it's a crime for Stu to be drunk on the street.
He called for a taxi to get a ride back.
The driver was sullen, with no Christmas crack.
But Stu was polite and kept his calm,
And this gave the driver no cause for alarm.
So Stu makes it home to his new bed.
No prison this time, just a sore head!
He's out Christmas shopping, enjoying the mall,
With Mrs Nicholas all pretty and tall,
She likes skimpy clothes, and the weather is warm
Stu reminds her to cover up and respect the dress norm.
A few days later, Stu's mother's in town
Within hours she falls and cracks open her crown.
'Don't worry' he says, 'hospitals here are great'
But with no travel insurance they'll cost a huge rate.
Mama Nicholas comes home with a bandaged head
She leaves with no photos, just an account in the red.
Stu feels rotten, but thinks 'Christmas is near!'
So decides to meet friends for some festive cheer.
After having a dram and a jolly old time
He thinks "I'll drive home, under UK laws I'm fine"
Yes you've guessed it, Stu ends up in jail
And spends the festive season out on bail.
'Thank goodness I'm out, I'm not keen on jail food'
Stu says, as he leaves the prison in a foul mood.
And to show his disdain, raises a fist for a fight,
So finds himself back in the cells for the night!
So our message is simple, be aware of the law;
And you're not all like Stu, of that we are sure.
From all at the Embassy, enjoy the season,
We love seeing you all, but just not for the wrong reason!
Stu's story continued each day from the 14th - 22nd December 2014 on the UKinUAE's Facebook page and Twitter account.
Contact
Sam Kelly Press and Public Affairs Tel: +971 4 309 4444
Document information
Published: 16 December 2014