World news story
British Embassy initiates documentary on Albanian justice system
The documentary looks at how the UK is helping Albanian institutions to improve the country's justice system.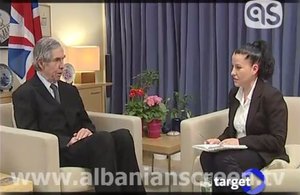 The British Embassy in Tirana has been the driving force behind a documentary to be screened on Albanian national television about the country's justice system. The documentary focuses on how the UK has worked with Albanian institutions to identify problems in the justice system and improve them to meet European standards and deliver benefits for Albanian citizens.
The documentary, which was produced in cooperation with the Slyn Foundation, forms part of the embassy's ongoing priority to help Albania make progress on security, democracy and stability reform, particularly around the rule of law
The documentary was first screened on Tuesday, April 23 2013 on Albanian Screen TV.
Published 5 June 2013