World news story
British Embassy increases its support for agricultural development in northern Kosovo
Ambassador Cliff praises Business Centre Zvecan's excellent work developing rural livelihoods and increases project support.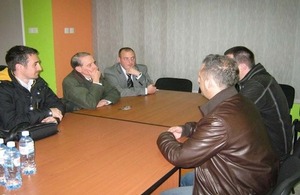 The UK Ambassador to Kosovo, Mr Ian Cliff, visited the Business Centre in Zvecan on 14 November to discuss the economic situation in this municipality and ways the UK Government can further contribute to development initiatives.
The British Embassy, in conjunction with Business Centre Zvecan, started a project to develop the agricultural sector at the beginning of 2013. This project predominantly focuses on small scale fruit and vegetables producers. Through training, specialised advisory services and provision of equipment (e.g. greenhouses and fruit seedlings), this project aims to increase the quality of fruit and vegetables produced and thereby develop the area's agricultural sector and boost economic growth.
The project also aims to increase cooperation between producers within the municipality. And by enhancing local producers' capacities, the Embassy and the Business Centre hope to create and secure new jobs at the local level and contribute to sustainable livelihoods.
As the first phase of the project was successfully implemented, the British Embassy recognised the need for further assistance and therefore decided to increase its support by delivering more grants.
For more information about this project please visit the website or contact Business Centre Zvecan on: +381 (0) 28 664 743
Published 26 November 2013