World news story
British Embassy in Tashkent hosts a meeting for travel agencies
British Embassy in Tashkent hosts a meeting for the representatives of local travel agencies.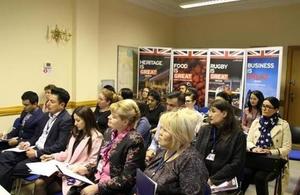 The British Embassy in Tashkent hosted a meeting for the representatives of local travel agencies on March 17, 2016. Chargé d'Affaires Miss Fiona Maxton welcomed 21 people representing 17 companies operating in the tourism industry in Uzbekistan.
The purpose of the meeting was to share information about the UK as a GREAT tourist destination and to discuss potential cooperation between travel agencies of Uzbekistan and the UK. During the meeting a video-teleconference was organized with Tatiana Khoreshok, the manager of VisitBritain in Moscow, which is the UK's national tourism agency and has a unique role in raising Britain's profile worldwide, increasing the value of tourism exports and developing Britain's tourism sphere.
VisitBritain shared information about tourism in the UK, the UK's culture and heritage, as well as led an interactive discussion on the types of support that VisitBritain provides to travel agencies and possible ways of strengthening cooperation between VisitBritain and travel agencies of both countries.
UK travel guides, designed by VisitBritain and translated into Uzbek, were distributed to the travel agencies. The guides include information on various destinations in the UK, things to do, places to visit and travel options available across the country. The production of the guides was supported by the GREAT Britain Challenge Fund.
VisitBritain explained that the UK is ranked in the top 10 tourist destinations around the world and is forecast to have a tourism industry worth over £257 billion by 2025. Britain's tourism industry is a dynamic affiliation of public and private sector organisations including small- to medium-size enterprises; international private businesses (eg. airlines or large hotel chains), as well as Destination Management Organisations at local and regional level. Since 2010 tourism has been the fastest growing sector in the UK in employment terms.
Chargé d'Affaires Miss Fiona Maxton said:
Tourism to and from Uzbekistan is an important contribution to both our countries' economies. It helps people understand different cultures and an increase in contacts between tourists from the UK and Uzbekistan will, I hope, also increase other contacts including in the commercial sphere by highlighting what both our countries have to offer to investors and businesses.
Published 18 March 2016