British Embassy in Bangkok temporarily closed to the public
The British Embassy in Bangkok will be closed to the public on Friday, 14 May 2010, due to its proximity to demonstrations in the capital.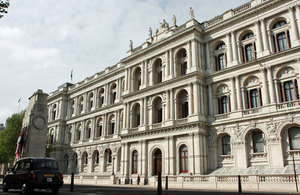 On 13 May the Thai Government's Centre for the Resolution of Emergency Situations (CRES) announced that it will take measures to increase the pressure on the red shirt demonstrators currently located around the Ratchaprasong intersection, the central business district of Bangkok, close to the British Embassy.
British nationals should avoid areas where demonstrations are taking place.
British nationals requiring consular assistance should call our phoneline on 02 305 8333 (in Thailand only), which will continue to be staffed at all times.
Published 13 May 2010