British Embassy Helsinki reopens the Defence Section
In September British Embassy Helsinki welcomed a new resident Defence Attaché to Finland.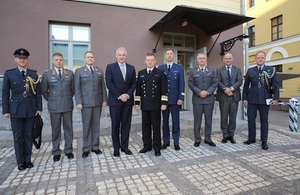 Last week saw the re-opening of the resident Defence Section in the British Embassy in Helsinki. Wing Commander Mark Taylor, RAF, and Defence Affairs Officer, Sena Yildirim, will focus exclusively on broadening and deepening the UK's Defence Relationship with Finland as signaled by the signing by Defence Ministers of a joint Statement of Intent at the Warsaw Summit in July 2016. The move builds on the UK's Strategic Defence and Security Review commitment to be "international by design" and to base our defence relationships on deeper understanding and adaptable partnering.
The UK's Vice Chief of Defence, General Sir Gordon Messenger, flew to Helsinki on Thursday to meet with senior Armed Forces officers and Ministry of Defence officials to mark the occasion and to explore opportunities for enriching defence cooperation further. General Messenger commented at a reception held at the British Ambassador's residence that:
the only way to achieve the peace and stability we all seek is to work together with partners, to share our different perspectives and achieve a better understanding. The UK's investment in its Defence Attaché network is an important and necessary part of that.
Being resident in Helsinki will enable Wg Cdr Taylor to better take forward these opportunities throughout his appointment before handing the baton on to the first of his successors who will be drawn from all three Armed Services.
As a previous Base Commander on Ascension Island, Wg Cdr Mark is very experienced at working internationally to achieve the operational advantage sought by the UK and its close partners. He will also be enjoying the opportunity to master the Finnish language with the help of locally employed Finnish national Defence Affairs Officer, Sena. Fortunately, Wg Cdr Mark enjoys a challenge!
Published 29 September 2016