World news story
British Embassy Havana launches green video competition
The British Embassy in Havana has launched a green video competition on environment and cities, as part of the British week.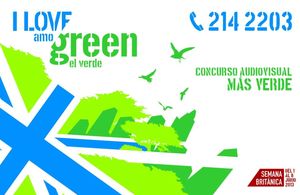 As part of the next British week, which take place in Havana from 31 May to 8 June the British Embassy in Havana has launched a competition for short documentary videos that deal with urban environmental issues in Cuba. The competition is open to all Cubans. All that is needed is a basic camera, such as on a mobile phone, and a little imagination. Each participant can submit up to 2 entries, each up to 3 minute long.
Entries should be sent to: Asociación Cubana del Audiovisual Edificio MICONS Avenida Carlos Manuel de Céspedes esq a B Plaza de la Revolución From Monday to Friday from 9:00am to 11:00am. The deadline is 15 May 2013.
The 3 winning entries will be shown in the green festival to take place at Parque Morro-Cabaña on 1 June, the opening event of the British week. Prizes on offer include a bicycle, an eco-tour in Cuba and a multi-device solar charger.
For further information (in Spanish) please call +53 7 214 2203, send an e-mail to concursomasverde@gmail.com or visit our Facebook page at www.facebook.com/ukincuba.
Published 16 April 2013