World news story
British Embassy donates football strips to Flamurtari in Kosovo
The British Embassy in Pristina presented Football Club Flamurtari with two football strips in support of their work with young people.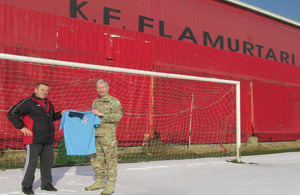 This donation from the British Embassy follows a game of football played between KFOR personnel on 14 December 2014 to commemorate the centenary of the Christmas Truce game of 1914 between German and Allied troops. The football strips from that one-off game are the ones being donated, so the Christmas Truce game will be remembered every time the strip is worn by the young people of Football Club Flamurtari.
Football Club Flamurtari is an established club in Kosovo, with the senior team playing in the Superliga, the top flight of Kosovar football. The club has a youth academy with hundreds of young people using the club facilities and playing football every week. It has been agreed that the donated strips will be used by the club's teenagers and youth team.
Mr Imer Ademi, President of Football Club Flamurtari, said:
I would like to thank the British Embassy and Colonel Jones for the wonderful gift.
Published 23 January 2015