World news story
British Embassy in Chisinau marks Human Rights Day
The British Ambassador reflects on Human Rights Day and activities the Embassy has focused on in 2013 promoting Human Rights in Moldova.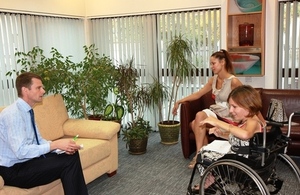 Today 10 December marks the 65th anniversary of the adoption by the United Nations General Assembly of the Universal Declaration of Human Rights - a declaration guaranteeing the rights of every individual everywhere. The UK was active then in promoting human rights (the British trade unionist, Charles Dukes, was one of the 9 drafters of the Declaration), and is still active today.
We publish an annual Human Rights and Democracy report and last month the UK was re-elected to the UN Human Rights Council for 2014-16. Particular priorities for us will be the promotion of Freedom of Religion and Belief, Business and Human Rights, the Preventing Sexual Violence Initiative, and UN institutional reform.
But what of our human rights work in Moldova? One of the Embassy's main objectives is to improve the respect for, and awareness of, human rights. We've done this in a variety of ways, but always with the emphasis on being inclusive. I'd like to highlight 5 examples from 2013:
financing a study into the extent of tuberculosis in Transnistrian prisons;
providing support to Genderdoc's (Moldova's LGBT organisation) website and participating in its first public march;
promoting child protection and social inclusion through our football project for 120 under 14s on both banks of the Nistru;
raising public awareness of the numerous UK charities providing essential social services to Moldova's most vulnerable citizens;
Promoting human rights issues through a series of Embassy-funded public lectures and training courses for legal practitioners.
Next year I hope to increase our activities that promote inclusion and raise awareness of the rights of the more vulnerable sectors of society – children, women and the elderly.
Published 10 December 2013